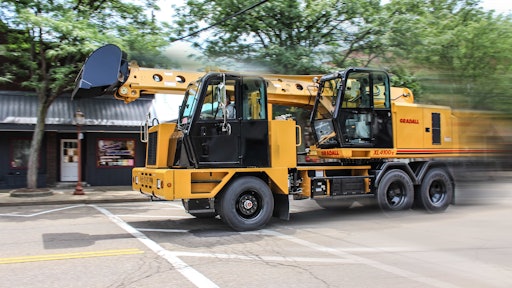 Gradall's new XL 4100 V hydraulic excavators are equipped with a single Tier 4 Final Volvo Penta diesel engine, meeting the highest global standards including the demanding Stage IV (EU) and Tier 4 Final (U.S.) emission requirements.
The 7.7-L 248 hp engine improves fuel efficiency by up to 5%, providing power to drive the 6 x 4 or 6 x 6 models from job to job and back to the equipment yard at speeds up to 60 mph. In addition, the same engine repositions the machine from the upperstructure cab at speeds up to 5 mph, and powers the versatile Gradall boom movements.
An advanced pressure-compensating, load-sensing hydraulic system has relief valves on all circuits, delivering the right amount of power to the boom. Without the need for selecting work modes, the system efficiently performs excavator digging, demolition and barrier placement as well as sloping, finishing, storm and canal cleanup, tree trimming and other jobs with cycle times and boom-end power comparable to conventional excavators.
Along with the Volvo engine enhancement, Series V excavators have an upgraded high-performance, high-reliability 24V electrical system, creating a better power source. An operator cab safety option provides rollover protection that meets safety test requirements and is integrated within the existing cab structure, without external support.
Complementing the mobility advantage is the Gradall AutoDrive package that includes a push-button automatic transmission – standard equipment that makes travel easier on city streets, interstate highways or on off-the-grid roads.
XL 4100V models feature telescoping, full-tilting booms that can be equipped with a host of attachments, enabling Gradall excavators to handle the work of many different machines. Because the full boom tilts, rather than simply slanting attachments with a boom-end mechanism, there's no loss of working power.
Maximum boom reach is 30 ft., 3 in. (9.2 m) at grade, while maximum dig depth is 20 ft., 3 in. (6.2 m). Loading height maximum is 17 ft., 2 in. (5.2 m).
The low working profile of the boom also allows it to work in tunnels, under bridges and beneath other overhead obstructions and utilities – job sites where conventional knuckle boom excavators simply won't fit.
Rated bucket force is an impressive 24,900 lbs. (111 kN) while the telescoping boom crowd force is 21,940 lbs. (97.6 kN). Unlike conventional excavators, the telescoping boom forces are constant through the entire dig cycle.