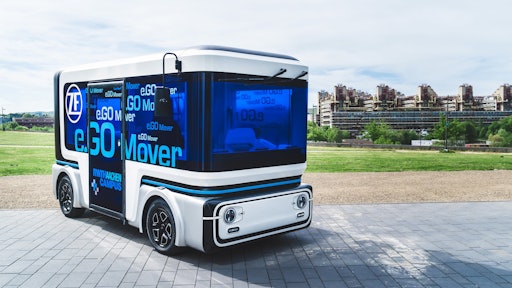 ZF Friedrichshafen Ag
Between IAA Commercial Vehicles in 2018 and the Consumer Electronics Show (CES) 2019, autonomous people-mover concept vehicles were taken to a new level in both the heavy-duty and consumer audiences. According to Roland Berger, a global consultancy firm, purpose-built vehicles for the shared mobility market is expected to grow from 1 million vehicles in 2020 to 2.5 million vehicles by 2025, and will account for approximately 25% of transportation services by 2030.
Several system suppliers that have been playing around with electrification and autonomy are teaming up with software experts and electric vehicle manufacturers to participate in the people mover concept development stage to demonstrate their capabilities for the autonomous future.
The e.GO Mover by ZF and e.GO
ZF and e.GO Mobile AG (an Aachen, Germany-based electric car start-up company situated in the Production Technology Cluster on the RWTH Aachen Campus) developed a joint venture—e.Go Moove GmbH—and together created a fully electric people mover, the e.GO Mover. Created primarily to serve the urban mobility needs of the future, the people and cargo mover is scheduled for 2019 production with the expectation of reaching one million units in demand within 7 years, according to ZF (learn more, 21011669).
Operating as a fully electric minibus, the e.GO Mover can accommodate 15 people while taking up the same space as a large sedan with zero emissions. It will also be equipped with Level 4 assistance driving functions, according to e.GO Moove.
ZF supplied the onboard intelligence technology, its ZF ProAI artificial intelligence platform developed together with Nvidia, as well as cameras, radar sensors, steering and brake systems, and the mStars electrical axle drive system.
The latest model of the ProAI supercomputer by ZF and Nvidia, the ZF ProAI RoboThink central control unit, was launched just before CES 2019 (learn more, 21039794). The AI-compatible automotive supercomputer offers a computing power of more than 150 teraflops (equivalent to 150 trillion operations per second) and can be combined with up to four additional units. It's modularity and scalability make it configurable for any application, from advanced driver-assistance systems (ADAS) to fully autonomous vehicles.
ProAI's open architecture allows hardware, connected sensor sets, evaluation software and functional modules to be adapted to the desired automation level. A single camera can generate one gigabit per second of data, which can be analyzed in real time by the ProAI's computing unit. "Artificial intelligence and deep-learning algorithms are used primarily to accelerate the analysis and to make the recognition more precise. It's about recognizing recurring patterns in traffic situations from the flood of data, such as a pedestrian trying to cross the road," says Torsten Gollewski, head of Advanced Engineering at ZF Friedrichshafen AG.
Bosch's Concept Shuttle
Also at CES 2019, Bosch debuted its concept shuttle, capitalizing on the emerging segment for ridesharing and automated mobility services. The driverless e-shuttle features Bosch's own radar, video, ultrasonic sensors, braking control systems, and power steering for its autonomous functionality, as well as its electric drive axle for efficient and emissions free operation.
For shuttle-based mobility, Bosch will not only be supplying the components and systems, but also a complete range of mobility services, such as reservation, sharing, and connectivity platforms, as well as parking and recharging services. Bosch believes that such connected services are essential for the shuttle-based mobility of the future.
According to PwC's research, the forecasted market volume for these mobility services is estimated to be as much as €140 billion by 2022.
Unlike the e.GO Mover, Bosch's concept shuttle is for only four passengers, but features a bevy of infotainment screens for work or pleasure. The Convenience Charging service monitors the battery's charge and determines when and where is most efficient to recharge the vehicle.
In line with its electromobility goals, Bosch recently acquired EM-motive, an electric motor manufacturer. Both Bosch and Daimler set up EM-motive GmbH as a 50/50 joint venture in 2011. "For Bosch, the complete acquisition of EM-motive is the next logical step on the path to becoming the market leader for electromobility. It's a chance to establish an even broader presence in the market," says Dr. Stefan Hartung, member of the board of management of Robert Bosch GmbH and chairman of its Mobility Solutions business sector. "With this move, Bosch above all intends to acquire new customers in the rapidly growing global market," says Dr. Mathias Pillin, the member of the Powertrain Solutions executive management responsible for the electric-vehicle market segment.
These on-road, low-speed applications are a great way for higher-levels of autonomous technology to be tested, with the added benefit of helping the general population to become familiar and comfortable with driverless operation. And, as major system suppliers like ZF, Bosch, Daimler and Continental participate in these urban opportunities, the inevitability of spill-over into the off-highway vehicle world seems closer than ever. 
Companies in this article