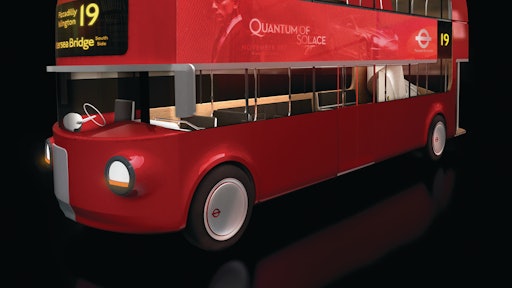 The retired Routemaster double-decker bus is still such a highly regarded icon of London, England, that developing a new bus was made a campaign promise. As part of London Mayor Boris Johnson's successful election pledges, he said the city would get a "21st century Routemaster."
In The Bus We Loved: London's Affair with the Routemaster, author Travis Elborough captures the unique appeal of the front-engined double-decker bus with this: "It is more than a bus, it was the bus we loved, probably the only public-service road vehicle any of us has ever, hand on heart, loved. It's probably the only bus many of us have ever known by its real name."
Placed into regular service in 1959, the red Routemaster bus, designed for and built in London by AEC and Park Royal Vehicles, became a symbol of the city. Even after it was retired from service on Dec. 9, 2005, its appeal has yet to fade.
Last July, Johnson joined Transport for London (TfL) to launch a public competition to design a brand new bus, inspired by the capital's iconic Routemaster.
Far from a simple art contest, this was a competition to harvest ideas and concepts for a new bus design. There were money or prizes in store for winners in several categories, and a real potential of creating the next London bus. Designers submitted their designs in one of two categories:
Design a bus for London: Entrants had the option of submitting a design for a part of the bus or a "whole-bus" design. Designs in this category had to be detailed and comply with specifications provided by TfL. A number of drawings were required, as well as written documents providing detailed descriptions of the design and features of the bus.
Imagine a bus for London: Entrants submitted single design concepts for particular features of the bus, or a sketch of the overall look. The judges looked for the best ideas rather than detailed technical designs. Entries were judged based on age.
The rules asked for a stylish, imaginative design that would have an impact on the streets of London. Key features included an open platform (a Routemaster trademark) ; good use of interior space, accessibility, and green technology.
Given a few months to complete the designs, more than 700 total entries were submitted. From the detailed "Design a bus for London" category, there were 225 entries. Most were from the UK but also Africa, Asia, Australasia, Europe and North America.
"The sheer scale of the response to this competition clearly shows how much it caught the imagination of Londoners and others worldwide," said Peter Hendy, commissioner, TfL, in announcing the winners last September. "We now have a wealth of fantastic ideas to present to the bus manufacturers, who will create the final design of the new bus for London, due to hit the streets in 2011."
Two co-winners were named in the top category (for which they won £25,000 each): bus specialist Capoco Design Ltd., Salisbury, England; and a team comprised of London-based architectural firm Foster + Partners and luxury sports car manufacturer Aston Martin. The youngest winners in the competition, in the "imagine" category, were a pair of nine-year-olds who received £200 worth of bicycle vouchers.
At a public presentation of the winning designs, held in March at the London Transport Museum, Foster partner Alistair Lenczner says, "When the competition first came out, I was very interested in it, as I have for a long time been interested in transport design. I have wondered why we don't we have someone design a new bus to replace the Routemaster."
After Mayor Johnson announced the competition, Lenczner says the idea took a while to build momentum in the Foster + Partners office. Through conversations with Aston Martin, they realized it was a valuable opportunity to bring together two British design firms, "with us very interested in creating public designs for London, and Aston Martin's automotive expertise, we thought we could learn a lot from each other in terms of how designs can evolve."
The team started by studying an original Routemaster bus. While the goal of the competition was not to a design a new Routemaster — instead it was for a new London bus — "everyone thinks of the Routemaster first, so starting there made sense," says Lenczner. "We poured all over the bus, which was not only an icon, but ahead of its time. The original Routemaster adopted technology from the aerospace industry after the war, such as the monocoque design and lightweight aluminum construction. We wanted to use that same thinking, using modern technology, and a lot of that we learned from Aston Martin."
Foster + Partners also interviewed people who worked on the Routemaster buses and riders on the two Heritage Routes operated by TfL (along which Routemasters still travel the streets, picking up regular passengers). The actual design started from scratch, working from the inside out. In talking with operators, the designers learned they liked having their own cab so they could concentrate on driving. That feature was adopted.
Lenczner says they kept a scale model of the Routemaster bus around when working on the design, and through the project learned why the Routemaster has the features it does, and why it was kept in service as long as it was. "Many times we wanted to do things different, but would return to the original."
When the winners were announced in December, Marek Reichman, design director for Aston Martin, Gaydon, England, said: "This unique project has been a great experience for the Aston Martin team and has allowed us to showcase the considerable and diverse design competence of our team, while affording us the opportunity to apply elements of our design language to an entirely different concept."
At the time, Mayor Johnson said, "I promised Londoners that I would hold a competition to design a new bus for London, based on the much-missed Routemaster. When I launched the competition, I asked for stylish and imaginative designs which would resonate with Londoners. We have had a phenomenal response, with ideas submitted from around the globe, and we now have, in our joint winners, two stunning designs that allow us to go forward and produce a truly iconic bus fit for 21st century London. I know that, like me, Londoners will be waiting eagerly to see how these ideas evolve into the final design that will appear on our roads."
Gina Tompkin contributed to this story from London.