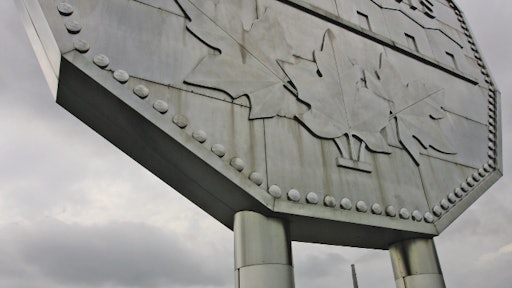 If you want to visit a place where the "state of the industry" is looking very healthy indeed, I'd recommend the City of Greater Sudbury. Located on the Trans-Canada Highway, Sudbury is a remote city on the northern edge of Ontario's population. Looking through one of the De Havilland Canada Dash 8's whirling props on the final approach into the tiny regional airport, lakes and trees are about all you can see.
Hard rock mining runs through Sudbury's veins. Sudbury is home to some of the world's most innovative mining specialists. With mining going strong worldwide, manufacturers and suppliers in Sudbury can't build their products fast enough.
Mining is cyclical, but when it's up like it is today you can feel it. Nickel, copper, gold and other minerals are buried in the Sudbury Basin, where miners have worked for more than a century. There's still plenty to go around, and with China and India ramping up, plenty of new markets. At present, nickel is trading at more than $13 per lb., copper at $3.62 per lb., respectable numbers although not quite the level of gold's $733 per oz.
Every city has its difficult situations, and if there's one in Sudbury it's employment. The busy mines are hiring and paying so well that it's difficult for equipment manufacturers and suppliers to find good help. Welders might hire on and gain six months of experience, then drive across town to extract nickel ore for a six-figure salary. But even the mining companies are worried, as during a couple decades worth of hard times, recruitment slowed or even stopped. A lot of experience will retire in the next ten years The companies will really be affected by a serious shortage of kids with mining degrees.
For the manufacturer that's already pushing hard to stay ahead of orders to support a worldwide mining boom, this is no time to replace and retrain employees on a regular basis.
When asked what can be done to counter the monetary attraction of the mines, one decision maker in Sudbury said they just hope to find good people who are not working simply for the money, but those who also enjoy what they are doing. They look for people who take pride in being part of a team that is making cool stuff (in paraphrasing, "cool stuff" is my own term).
The same manufacturer has chosen to outsource major fabrication work to stay ahead of orders. Sudbury's shops are so busy, the OEM is sending work to southern Ontario where slowing automobile sales have given companies some spare time. Since those shops are starving for work, the rates are better, too.
When it comes to hiring time — whether in northern Ontario, southern Nevada or central Iowa — finding good help can be a challenge even without a permanent "Help Wanted" sign nailed to the front gate of a higher-paying mine. Manufacturers are also drawing from a shrinking pool of engineers.
Just as with Federal's company philosophy in 1923, outsourcing elements of design and manufacturing to specialists gives everyone, including the OEM, the opportunity to focus on core competencies. It requires knowing who to ask and working as a team. Thinking outside of the box and working together is exactly what Sohan Uppal recommends on page 24. Teamwork in Sudbury is helping to advance the state of the industry in underground mining.