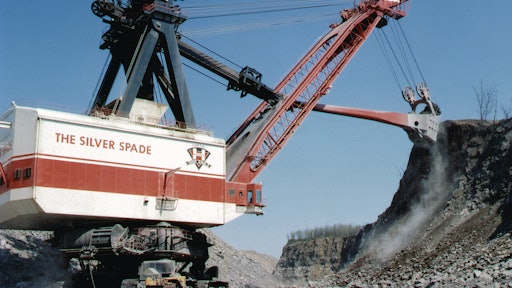 After the fall of the Alamo, the Republic of Texas realized if it did not unite to defeat Mexico, it would ultimately loose in its quest for independence. "Remember the Alamo!" became the rallying cry that helped propel Sam Houston's group of rebels toward a victory against Mexican General Santa Anna.
Today, "Remember Big Muskie!" has become a battle cry of sorts among aficionados of giant mining equipment. Big Muskie, the largest dragline ever constructed, was cut up for scrap after preservation efforts failed. (The Bucyrus-Erie, weighing 27 million pounds, was the second heaviest mobile land machine ever built. Heaviest was The Captain, a Marion 6360 electric stripping shovel that tipped the scales at 28 million pounds. It, too, has been scrapped.) Determined to prevent similar catastrophes, groups such as the Harrison Coal & Reclamation Historical Park, Cadiz, OH (www.hcrhp.org), are working to raise the money and the volunteers to preserve some of the most awe-inspiring mobile off-highway machines ever created.
Formed in 1992, HCRHP's focus is to provide a comfortable rest home for The Silver Spade, a Bucyrus-Erie 1950B that was commissioned in 1965. Weighing 14 million pounds and standing 220 ft. tall while swinging a 105 cu. yd. bucket, it's the largest electric stripping shovel still doing the job it was designed to perform. The Silver Spade is removing overburden for CONSOL Energy (formerly Consolidation Coal Co.) at its only surface coal mine, located in Mahoning Valley in eastern Ohio, near Cadiz. In 2003, The Silver Spade helped CONSOL unearth 700,000 tons of coal at that mine.
But it is starting to show its age. Spade's twin sister, The GEM of Egypt ("GEM" stands for Giant Excavating Machine, and it worked in Ohio's Egypt Valley), narrowly survived a longwall collapse in 1976, and later donated its vital parts to keep The Silver Spade working. GEM was scrapped in 1991.
"CONSOL is saying The Silver Spade will stay on the job for at least two more years, says Bryan Coulson, a HCRHP board member in charge of publicity, "but that all depends if her condition will last that long." Many mechanical components have been overhauled since it was refurbished and put back in service in 1989. The repair crew must keep ahead of fatigue that is creating cracks in Spade's thick steel.
"Wherever it gets shut down, that will be the museum site," similar to Kansas' Big Brutus attraction, a Bucyrus-Erie 1850B (see OEM Off-Highway, Sept. 2003). It's doubtful the machine will be fired up after it is retired, as the bill to run the three-phase electrical system would put a serious financial strain on practically any group of enthusiasts.
The Silver Spade (originally named for the 25th anniversary of CONSOL's Hanna Coal Co.) and the GEM of Egypt were the only Bucyrus-Erie shovels to have Marion Power Shovel Co.'s knee-action crowd and boom design, the result of a patent swap between competitors Bucyrus and the Marion, OH firm.
While never taking its eye off The Silver Spade it can sometimes be seen working off of Hwy. 519 the HCRHP group has found itself in a position to save relatively smaller equipment. Its latest project is rescuing a Marion 7200 walking dragline. The ground it has been sitting on at a surface mine near Magnolia, OH, is in the process of being reclaimed.
When Marion introduced its walking draglines, the 7200 was the first model. Nearly 20 years passed from the first in 1939 to the last. HCRHP's 7200 was built in the early 1950s.
Coulson was representing HCRHP in a booth at the Huber Machinery Museum in Marion last summer, getting the word out about the group and looking for donations to help with the dragline. "We've been getting volunteers," says Coulson, "so we've been dismantling it and getting it ready to go. We still need money to pay for the oversize loads, but we have volunteers to make the legal-size trips."
Coulson estimates there will be six oversize and 14 legal-size loads to move the Marion 50 miles. The 120 ft. boom will be hauled in two sections. The group's volunteers have cleaned up the inside and removed 85% of the sheetmetal. "We've basically been able to unbolt the components, but there are some spot welds where we had to use a grinder or a torch. Overall, disassembling it has not been too bad."
Once the Marion has been moved to safety it will be put in storage. "We don't want to invest in putting it back together until we know if we are going to get the Spade or not," says Coulson. "If we do, we'll have to move the dragline up the road to the new site."
Marion built several dozen 7200 draglines, but this is the only one the group knows about that has not already been scrapped. "A guy from Marion actually gave us a builder's plate from the last 7200 that was manufactured." It has long since been recycled.