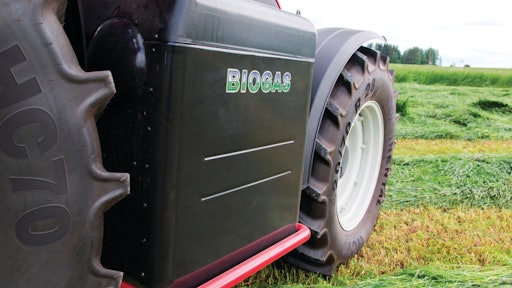 The trend towards developing equipment which runs on alternative forms of energy—such as hybrid technology or biofuels—continues within the heavy equipment industry, including agriculture. New Holland, for example, showcased its methane-powered concept tractor at Agritechnica 2013.
AGCO Corp. has also developed a tractor which runs on biogas. The tractor, which uses dual-fuel technology to enable operation using either gas or diesel, is currently available in Sweden and a few other markets in Europe.
Two fuels are better than one
Pekka Ingalsuo, Director of Product Management at Valtra, a brand of AGCO, says discussions about developing a biogas tractor began about 10 years ago due to customer interest in Sweden. "Sweden is kind of a pioneer in the use of biogas," he explains. There are many environmentally conscious customers there interested in being able to utilize the technology, and there is also political support for the continued development of green energy.
The Valtra N101 biogas tractor uses a dual-fuel system which allows operators to choose whether they will use diesel or biogas—including methane or natural gas. Ingalsuo says the dual-fuel concept enables more flexibility because operators can choose to run on 100% diesel, 15% diesel and 85% biogas, or any combination in between. This is beneficial especially if the customer is working in a rural area where there is not as much access to biogas; instead he or she can use a smaller amount of biogas, or none at all, until a biogas fueling station can be found.
However, he notes that a minimum of 15% diesel must be used for ignition purposes. "If you do not have that amount of diesel, then you would need spark plugs to ignite the fuel. You would need a completely different type of engine, and huge changes [to turn] the regular tractor to a gas tractor," says Ingalsuo.
The dual-fuel concept requires no changes to be made to the base tractor because the gas tanks and gas supply are all add-on components. "This dual-fuel technology, it's the best possible way, in our opinion, to utilize gas on the tractor," says Ingalsuo. "First, because it doesn't require any change on the base tractor, and second because you have the freedom to use diesel only if gas is not available, or you can utilize gas up to 85% of the total fuel amount when gas is available."
For customers, this fuel flexibility will also help with the resale of the tractor. If it were purely a gas-powered tractor, the number of potential buyers would be limited, whereas having the option to use diesel or gas provides a broader customer base.
Operating a tractor on biogas can be beneficial to both operating costs and the environment. Ingalsuo says because the gas is cheaper than diesel, owners of the biogas tractor can save 25% on fuel costs. Meanwhile, biogas produces fewer carbon emissions than diesel, helping reduce the amount of carbon dioxide (CO2) being released into the atmosphere.
Availability of the tractor is currently limited to Sweden due in part to the lack of emissions regulations for gas tractors in the European Union. Ingalsuo explains that present regulations cover only diesel-powered tractors, requiring a special license to register the biogas tractors. Valtra has been able to attain that license in Sweden due to the country's government having a high regard for renewable energy technologies. Ingalsuo says there are a few other countries where the company has been able to register and sell the tractors, but it's been easiest in Sweden. Once more legislation is implemented regarding gas-powered tractors, the company will be able to expand availability of the Valtra N101.
Using gas from the farm
The Methane Power tractor displayed by New Holland Agriculture at Agritechnica was developed as part of the company's Energy Independent Farm strategy. "[New Holland] is committed to developing advanced propulsion techniques which reduce dependence on fossil fuels and this strategy centers on the ability of farms to produce energy from natural sources that have a low environmental impact, and to use it to power the agricultural machines and the farm itself, or even to sell the surplus energy back to the local grid," explains Barbara Prossen, Global Brand Marketing and Communications Press Relations and Brand Projects at New Holland.
Running solely on methane, New Holland has found its Methane Power tractor can provide cost savings between 25 and 40% compared to conventional fuels. And because bio-methane produces minimal emissions, the tractor has an almost zero carbon impact. According to New Holland, emissions are 80% lower than that of a diesel engine.
Included on the tractor is a methane engine developed by FPT Industrial, a brand of New Holland's parent company CNH Industrial. The engine features a 4 cylinder, 3 liter design providing up to 135 hp and 620 Nm of torque. A three-way catalyst on the engine ensures Tier 4 Final compliance without the need for additional aftertreatment systems.
By adding nine 50 kg capacity storage tanks to the tractor, minimal changes had to be made to the base tractor design in order for it to run on methane. These tanks can provide up to half a day of operation before they need to be refilled. An additional 15 liter tank can be added, as well, to provide backup fueling if necessary.
New Holland is still in the testing phases for its methane tractor. Currently a prototype T6.140 Methane Power tractor is running on a farm outside of Turin, Italy. The tractor runs on renewable biomass produced at a biogas plant located on the farm, enabling it to have quick and easy access to a fueling source, as well as use locally-produced fuel.
Companies in this article