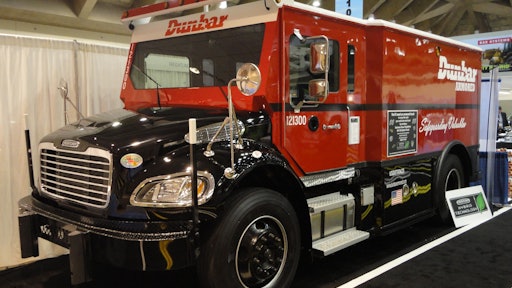 Freightliner Trucks announces that Dunbar Armored has taken delivery of the first-ever hybrid-electric armored truck – a Freightliner Business Class M2 106 Hybrid. Easily configured for a wide variety of bodies and different applications, the Business Class M2 106 Hybrid is ideal for stop-and-go and stationary power take-off (PTO) operations.  

Dunbar Armored, which is the largest privately-owned armored car service provider in the United States, provides security service to commercial, financial, state and federal institutions. The company's new Business Class M2 106 Hybrid truck – which will be the first hybrid vehicle in Dunbar's fleet of more than 1,400 – will be in service in California.  

According to Douglas White, Vice President of fleet maintenance for Dunbar Armored, the company was seeking a truck that would help them reduce fuel consumption and their carbon footprint.

"Not only do we want to offset future fuel costs, but we're finding that our customers are also looking to us to be environmentally conscious," says White. "Freightliner Trucks offered the best solution for our first hybrid vehicle."

All of Freightliner Trucks' hybrid products are equipped with EPA 2010-compliant engines utilizing selective catalytic reduction (SCR) technology and the Eaton Hybrid Electric Drivetrain System, a parallel hybrid system that enables the truck to operate using the diesel engine alone, or in combination with the electric hybrid motor.

Dunbar's new Business Class M2 106 Hybrid truck is the first production hybrid in the medium-duty market to include Eaton's "engine off at stop" technology, which shuts the engine off completely when the vehicle comes to a stop. The "engine off at stop" feature also includes a hill-hold function, which prevents the truck from rolling on grades greater than 2% when the driver removes his foot from the brake and steps on the accelerator. Combined, the new features are expected to give customers up to an additional 8%t in fuel savings.

"It is our goal to provide all of our customers with innovative, leading-edge products that provide a definite impact on their bottom line," said David Bryant, vocational sales manager-hybrids for Freightliner Trucks. "Together with Eaton, we continue to enhance our hybrid solution to help companies like Dunbar maximize fuel efficiency and benefit the environment."

Freightliner Trucks' commitment to green technologies is part of Daimler AG's global Shaping Future Transportation initiative. Launched in 2007, the initiative focuses on reducing criteria pollutants, carbon dioxide and fuel consumption.
Companies in this article