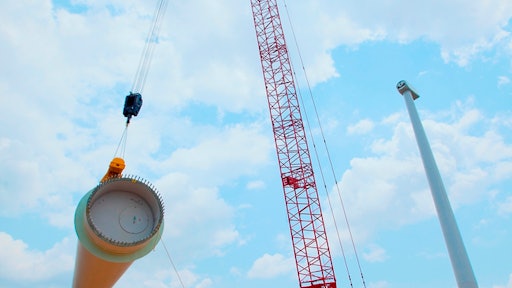 A Manitowoc 16000 fitted with the new wind attachment is erecting 204 turbine towers on a wind farm at La Ventosa, in the Juchitán District of Mexico's southern state of Oaxaca.
This is the first 16000 with a wind attachment in Mexico. A Manitowoc 18000, a Grove GMK5220 all-terrain crane and five Grove rough-terrain cranes are also on site. The cranes all belong to contractor Sectrol DHP, which is working for main contractor Acciona. Sectrol DHP is erecting 68 towers in three locations in La Ventosa.
The nacelles are the heaviest elements, which weigh 65 t, and the towers are 80 m high. When complete, the farm will generate around 306 MW of energy; enough to power 16,000 homes in the Oaxaca area.
Jorge Fernandez, commercial manager for Sectrol DPH, which specializes in green energy, said that the wind attachment extends the capabilities of the 16000 in terms of capacity and reach.
"We do a considerable amount of work in wind energy, and we've seen size of wind turbines evolve," says Fernandez. "The new wind attachment helps us offer our clients a greater scope of services – including the installation of larger turbines – with the same crane."
The Manitowoc 16000 has a maximum capacity of 400 t, and a maximum reach of 96 m. The wind attachment increases the reach and capacity of the Manitowoc 16000 at short radii – particularly useful in wind turbine applications. At an 18 m radius, the wind attachment lends the crane a capacity advantage of 49% over a standard 16000. For this project, the 16000 was configured with the wind attachment and a 91 m boom.
Jerry Maloney, global product director for Manitowoc's crawler cranes, said the new attachment allows the Manitowoc 16000 to maintain its position as the preferred crane for wind turbine work.
"Since the Manitowoc 16000 launched five years ago, it has become one of the leading cranes for wind turbine erection in North America," he says. "Approximately 85% of the Manitowoc 16000 cranes we build are used in wind power work. The cranes are quick and easy to erect and disassemble and are equally easy to transport."
By not requiring any modifications to the base crane, Manitowoc made it easy for customers to take advantage of the new attachment.
Sectrol DHP, which completed all of the civil work on the project – building roads, foundations, etc. – began work on the tower erection phase in March. The project is expected to finish in August.