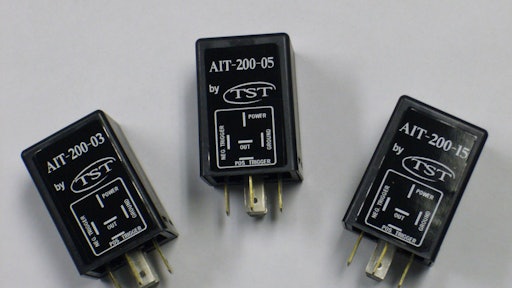 Idling a vehicle for one hour can consume one gallon of gas per day, thus creating a costly problem over time, not to mention harming the environment. Indiana-based Transportation Safety Technologies (TST), a designer and manufacturer of a wide array of electronic components for the specialty vehicle industry, announces that Miami University, Oxford, OH, has implemented its Idle Guard 200 on four campus service vehicles to reduce emissions.
Idle Guard 200 is a solid-state, reliable timer that automatically prevents unnecessary engine idling in fleet and delivery vehicles. The technology allows drivers to remain compliant with anti-idle regulations, and is a low-cost solution that is easy to install and can be retrofitted on almost any vehicle.
According to the California Energy Commission's website, for every two minutes a car is idling, it uses about the same amount of fuel it takes to drive roughly one mile. For large trucks and fleets, the wasted fuel is even greater. The commission's Consumer Energy Center states that excessive idling can damage engine components, including cylinders, spark plugs and exhaust systems. Fuel is only partially combusted when idling because an engine does not operate at its peak temperature. This leads to the buildup of fuel residues on cylinder walls that can damage engine components and increase fuel consumption.
"Unnecessary engine idling is the largest factor in how much fuel a fleet wastes," says Clarence Blevins, manager of physical facilities for Miami University. "Installing the Idle Guard 200 in our maintenance vehicles will help the university save money, while reducing our carbon footprint—and that's something we're proud to be a part of."
Several states, counties and cities have implemented anti-idling regulations that levy fines to address issues ranging from environmental concerns to economic costs that are associated with vehicle emissions. The Idle Guard 200 is a successful solution that is currently used by large municipal fleets, utility cooperatives, concrete aggregate mixers, construction companies and large Midwest grocery chains. The product is ideal for organizations with 25 or more vehicles—gas or diesel, manual or automatic transmissions—as well as delivery and service companies.
"Green technology is everywhere, and we're eager to work with Miami University to reduce vehicle emissions," says Fred Merritt, CEO of Transportation Safety Technologies. "For less than $100, users can install the Idle Guard 200 and save thousands of dollars in fines and fuel waste, while remaining compliant."
The Idle Guard 200 is triggered by either a positive or negative trigger signal from the park brake on a manual transmission or the park/neutral switch on an automatic transmission. The device is offered in three models offering engine shut off after three, five or 15 minutes by either fuel shut off with a diesel or by the ignition with a gas engine.
As with TST's other products, its complete design capabilities give the company the ability to customize products per application.