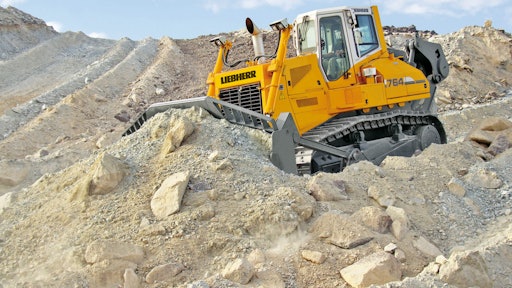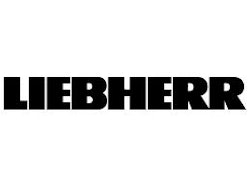 The dozer PR 764, which was on display at MINExpo 2012, is the largest of the current Liebherr product line. The machine is powered by a Liebherr D 9508 V-8 engine developing 422 hp (310 kW). The engine is turbocharged and utilizes common rail fuel injection. The machine weighs 116,150 lbs. (52,680 kg) and is equipped with a 17.8 yd³ (13.6 m³) semi-u blade and a single shank ripper.
As with the entire product line, the PR 764 features a hydrostatic travel drive, making the machine the largest hydrostatically driven crawler dozer in the world. Due to the advanced hydrostatic drive and load-sensing hydraulics, the engine operates at a constant speed – in the most economical rpm range – regardless of the travel speed. The result is exceptional fuel economy without sacrificing power or productivity.
A well-proven technology, Liebherr's hydrostatic travel drive needs no torque converter, manual shift gearbox, differential steering or steering clutches. Engine power reaches the tracks without interruption, even when turning. Track slip is kept low, while maximum power is continuously transferred to the tracks. The machine can be turned quickly and has exceptional ripping and dozing power. Final drives feature double seals and automatic leak detection for worry-free operation and reliability. Oscillating bogie suspension undercarriages are available.
The PR 764 features an intuitive, single joystick control. Three speed ranges can be selected and further programmed via push button to meet the applications demands. Once programmed, the settings are stored in memory and are retained when the machine is restarted. In addition to the travel joystick, the operator can control the speed via an inching pedal. Since the machine is hydrostatically driven, the machine cannot "freewheel," even on steep slopes it is always positively driven. The operator controls braking simply by moving back the travel joystick. When the machine comes to a stop, the parking brake is automatically applied.
The PR 764 features an outstanding, ergonomically designed cab. The cab controls are clearly laid out and within easy reach. The ROPS/FOPS protection is integrated into the cab, allowing for large window areas and exceptional view to the working area as well as rear-mounted attachments. The well planned details include, air conditioning standard, ample storage, wide ranging seat adjustments, three position armrest adjustments, sliding side window, tinted glass, footrest and much more. The end result is an exceptionally comfortable work environment for the operator.
Liebherr has been building crawler dozers with hydrostatic drives for more than 30 years. The Liebherr designed and built components and assemblies further ensure the high quality, reliability and performance of the machine. Built specific to a wide variety of applications, the machine will meet every demand, whether stockpiling, working slopes or ripping, regardless of material or environment.