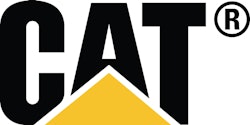 The Cat 6030B FS Hydraulic Shovel, which was on display at MINExpo 2012, is the first of the B Series machines in the extensive Cat hydraulic shovel product line. The 6030B FS features a new cab with advanced ergonomic design and superior visibility to the work area and clear lines of sight to the stick and boom for enhanced operator comfort and efficiency. Access walkways and hand rails too, have been redesigned to enhance the safety of operators and technicians.
The 6030B, available in backhoe configuration as well as front shovel, incorporates a number of Cat components that enhance reliability and durability. The 6030B FS that was on display features Cat power—two C27 diesel engines producing 1,530 hp (1,140 kW). A full line of diesel and electric drive options are available. The B Series machine also features Cat C95 GET with hammerless design for simplified removal and installation of bucket teeth.
The 6030B builds on the proven performance of its predecessor and still features TriPower shovel kinematics, which aid bucket guidance and assist in applying forces to do more work. The B series also retains advanced hydraulics control, independent oil cooling, intuitive on-board electronics and durable structures. The 6030B FS payload of 33 tons (30 tonnes) remains the same as the 6030 FS that the new model replaces when it becomes commercially available in the fourth quarter of 2013. Machine weight remains at approximately 316 tons (287 tonnes).
New cab enhances operator comfort and efficiency
Designed and built in collaboration with ergonomics experts, shovel operators and other mining professionals, the Cat shovel cab incorporates many improvements that enhance operator comfort and safety.
Cab development included use of the Caterpillar Virtual Product Development system to ensure clean lines of sight for the operator. The 6030B FS provides exceptional visibility to the working end of the machine through laminated glass that is angled to shed moisture. Large side windows provide direct side lines to the tracks from the operator seat. A fully adjustable Cat seat with a pneumatic suspension system reduces operator fatigue.
Controls are low effort with ergonomic handles. Displays are strategically mounted to ensure good sight lines to the work area while remaining easy for the operator to read. Operators can adjust screen brightness and contrast to suit individual preferences. Intuitive icons and logical navigation paths aid operation.
A comfortable trainer seat positioned behind and to the left of the operator provides an optimal view of the work area and controls and displays, which facilitates instruction. A fold-down seat can be used to sit adjacent to the operator.
Vibration-damping cab mounts improve the ride even further, and insulated cab walls and rattle-free storage help quiet the work environment. The hydraulically powered HVAC system mounted outside the cab reduces noise, and it maintains the operator-selected cab temperature automatically even in extreme environments.