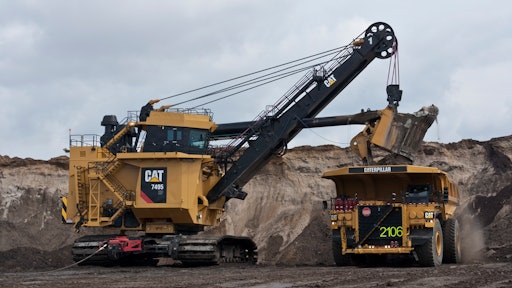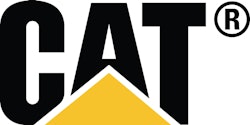 The Cat 7495 and 7495 HF Electric Rope Shovels have been enhanced with a state-of-the-art cab and are available with HydraCrowd and the LatchFree Dipper System—all designed to boost productivity through easier control and reduced downtime.
Additionally, Caterpillar is developing an off-grid power supply, a patent-pending technology that reduces the amount of generator power required to run an electric rope shovel. The system captures regenerated power from the shovel and uses it during periods of high power demand—effectively reducing the maximum amount of power required from the generators. The technology will enable mining companies to power the 7495 or 7495 HF with just 4 megawatts of generator power, and, as result, to reduce fuel and maintenance costs significantly.
The 7495 and 7495 HF both have payloads of 120 tons (109 tonnes) and operating weights of more than 1,500 tons (1,360 tonnes). They are designed for three- or four-pass loading of ultra-class mining trucks. 
New cab enhances safety, efficiency and productivity
Designed and built in collaboration with ergonomics experts, shovel operators and other mining professionals, the Cat shovel cab incorporates many improvements that enhance operator comfort and safety.
The new cab is equipped with many features that help operators stay alert and productive over long shifts.
Ergonomic operator seat. A fully adjustable seat with fully adjustable armrests and a pneumatic suspension system reduce operator fatigue.
Responsive, low-effort controls. Hall Effect joysticks with ergonomic handles and finger touch control improve ease of operation and help minimize fatigue. 
Easy-to-read, intuitive display screens. Dual display screens are strategically located to allow excellent visibility to the work area. Operators can adjust screen brightness and contrast to suit individual preferences. Intuitive icons and logical navigation paths aid operation.
Low-glare interior and high-quality window blinds. All colors and surfaces used inside the cab help minimize glare. Premium-quality blinds provide additional shading to improve comfort and reduce fatigue.
Automatic climate control. The new HVAC system automatically maintains the temperature the operator selects.
Low vibration levels. The improved support structure and vibration-damping cab mounts provide a smooth ride.
Low sounds levels. Insulated cab walls and rattle-free custom cabinets help quiet the work environment.
Extra amenities. Attractive countertops, spacious cabinets, a durable refrigerator and space for a microwave create a work space that drives operator satisfaction.
The new operator seat location permits unobstructed vertical line of sight from crawler tracks to boom point sheaves and helps create best-in-class left-side visibility. Work site visibility is augmented further by a five-camera system that feeds to in-cab monitors.
A comfortable trainer seat positioned next to the operator provides an optimal view of the work area, facilitates communication during training and allows easy access to the trainer's emergency stop button. An additional work station behind the operator provides a seat and desk area for an observer. The elevated location permits unobstructed views of the digging environment and operator station.
Dual doors permit quick, easy entry and exit from the right side or the rear of machine. The flat floor with no steps permits safer, easier movement throughout the cab, and adjustable LED lights illuminate the work area.
These and other features make the cab on the Cat 7495 Rope Shovel a safe, comfortable place to work productively, even during long shifts in inclement environments.
Hydraulic crowd system
HydraCrowd uses a hydraulic cylinder inside the tubular dipper handle to replace the crowd/retract ropes. The system maintains all the benefits of the Cat shovel front while eliminating the need for routine crowd/retract rope replacements. With a two-year major maintenance interval, HydraCrowd enhances safety and cuts downtime by reducing the number of maintenance events.
Reliable dipper door
The Cat LatchFree Dipper System is the solution to a major cause of rope shovel downtime–the latch assembly. The LatchFree dipper eliminates the latch assembly, replacing it with a strong steel link mounted to the dipper back. The system increases reliability by reducing unplanned downtime and enhances safety by reducing the number of maintenance events required. It comes complete with a comprehensive training program to ensure customers achieve maximum system benefits.
Off-grid power solution
Caterpillar is developing technology that will permit mining companies to power the Cat7495 or 7495 HF Electric Rope Shovel on just 4 megawatts of generator power. The standard practice uses multiple generators with a total of 8 megawatts or more capacity to achieve rapid response when peak power is required. Of course multiple generators increase maintenance and fuel costs. Additionally, generator-powered electric rope shovels require additional systems to dissipate regenerated energy, because they cannot feed electricity back into the power grid.
The Caterpillar off-grid power supply technology stores regenerative energy created during swing deceleration and bucket lowering, and the system uses that power during periods of high demand to reduce the generator load cycle. The system enables a 4-megawatt generator to handle a large electric rope shovel, and it reduces fuel consumption by employing regenerative energy.
This innovative technology, currently being validated at the Caterpillar proving grounds in Arizona, is expected to be commercially available in late 2013.