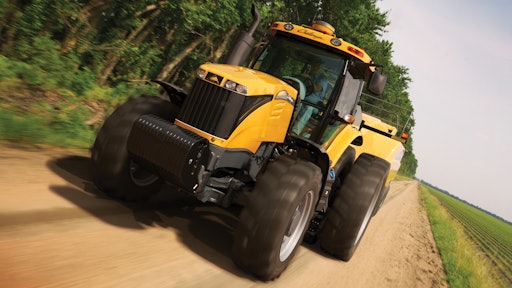 Challenger, a global brand of AGCO, is adding four new models to the MT500D Series of wheeled tractors for professional agricultural producers across North America. The new, fully redesigned tractors, with 110 to 125 PTO horsepower, complement the Challenger lineup of tractors designed to meet the intense demands and challenging environments of today's farming operations.
"The new Challenger MT500D Series tractors expand the Challenger line by offering even more choices in power, comfort and innovation," says Conor Bergin, AGCO senior product specialist for high-horsepower tractors. "These tractors are more powerful than the previous Series and also are 6 to 8% more fuel-efficient, for a great blend of power and fuel economy. This makes them ideal for tough chores in the field and around the farmyard, whether chopping stalks, loading hay, mowing ditches, blading dirt or moving snow."
In addition to a more powerful, more fuel-efficient engine, the tractors feature a redesigned, more ergonomic cab for improved comfort, with fingertip controls embedded in the armrest for easier operation. The cab features OptiRide hydraulic cab suspension, which automatically adjusts for changing field conditions. Combined with a new, quieter engine, the more comfortable cab helps reduce operator fatigue from long days in the field.
The new models join four other tractors in the MT500D Series, with horsepower ranging from 140 to 180 PTO horsepower, introduced in 2011.
Industry-leading emissions compliance, efficiency
All four new models, including the MT515D, MT525D, MT535D and MT545D, feature Tier 4 Interim (Tier 4i) emissions-compliant AGCO POWER 6.6-liter engines. The engines use AGCO-exclusive second-generation e3 selective catalytic reduction (SCR) clean-air technology. The system monitors exhaust and adjusts diesel exhaust fluid (DEF) treatment in real time for improved emissions, minimal maintenance, reduced fuel consumption and industry-leading DEF use efficiency. Increased horsepower is courtesy of a larger AGCO POWER engine, plus a boost in common rail (CR) injection system pressure from an AGCO-exclusive Bosch pump.
"Higher injection pressure ultimately provides better response in terms of horsepower recovery as you lug down," explains Bergin. "The torque response is far greater, so the tractor doesn't slow down under tough conditions, plus you get improved fuel economy."
Depending on the model, tractors are available with a choice of Techstar CVT (continuously variable), AutoPower 6 (24-speed, partial-powershift) or AutoPower 4 (16-speed, partial-powershift) transmissions for efficient power transfer under any field condition. The AGCO-exclusive Techstar CVT delivers true clutch-less, step-less operation for no shifting between ranges, the convenience of a 1200-hour service interval and limited moving parts for long life. The Autopower 6 and Autopower 4 semi-powershift transmissions also are unique in the industry, with no need to engage the clutch when shifting between ranges.
Greater comfort and improved control
As with other MT500D Series tractors, the cab on the new tractors features an OptiRide Plus cab suspension system. This unique hydraulic suspension system relays information through an electronic control unit to automatically adjust to control bounce, rolling and pitching for a comfortable ride in the field or down the road.
Inside the redesigned cab, a right-hand control armrest, multipad control and new multi-function joystick provide easy-to-reach, fingertip control and ergonomic design that are comfortable for the operator. A Datatronic CCD display offers greater performance and functionality and is easier to read, so producers can accurately monitor and adjust tractor and implement settings.