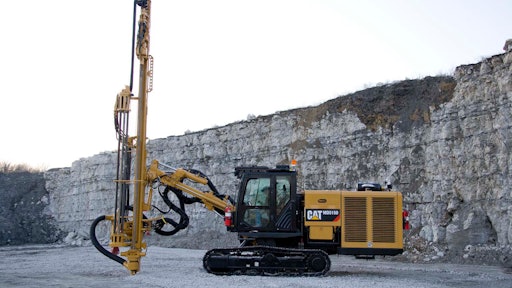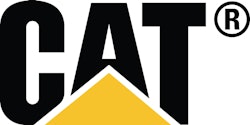 Caterpillar introduces the new MD5150 Track Drill, a customer-inspired design that delivers top-of-class power and airflow for fast, efficient drilling of holes up to 152 mm (6 in.) in diameter. Benefiting from more than 50 years of track drill design, the MD5150 incorporates a proven rock drill, patented carousel rod changer, new cab and many other features that boost productivity and reduce operating costs.
Increase productivity with carousel rod changer
The MD5150 dramatically reduces setup time, thanks to its innovative carousel rod changer. The Cat design holds six rods and accommodates multiple lengths and diameters of drill steel. Powerful dual-rod grippers and a unique gate design let the rod and gate move simultaneously, reducing cycle time. The rod changer is supported by a sturdy feed and heavy-duty 2.4 m (8 ft.) boom that extends to 3.3 m (11 ft.) for larger pattern coverage with fewer setups. Because the carousel rod changer weighs less and holds more rods than linear models, the boom extension can reach farther and drill deeper while maintaining stability. Holes can be drilled within 610 mm (24 in.) of the highwall, which is 50% closer than with a linear rod changer.
Reduce ownership costs with reliable rock drill
High reliability, long life and low ownership costs are hallmarks of the new machine's rock drill. With less than half as many moving parts as competitive rock drills, it is a simple, reliable design that offers dependable performance and exceptional durability. Owners can service the rock drill themselves to reduce downtime and control costs. A new automated lube system keeps the rock drill working productively, eliminating the need to stop the machine for manual greasing every two hours.
Cut cycle time with high power and big air
The MD5150 delivers exceptional power and airflow for faster, more efficient drilling in hard rock applications. The heart of the power group is the Cat C11 Engine rated at 287 kW (385 hp) at 1,800 rpm. Designed for high performance and excellent fuel efficiency, the engine meets U.S. Tier 3 and EU Stage IIIA emissions standards. The high-horsepower engine works as a system with a biggest-in-class air compressor to optimize air flow. An oversized, high-efficiency cooling system further improves performance and life.
Work safely and productively in new cab
The cab on the MD5150 is designed to enhance safety and productivity. It is ROPS/FOPS-certified and incorporates numerous shutdown methods accessible from the cab or at ground level. Large windows, streamlined front structures and a skylight enhance visibility, as do well-placed mirrors and high-resolution cameras. The front window provides a secondary emergency exit.
To boost operator comfort and productivity, the cab features automatic climate control, excellent ventilation, a fully adjustable seat, ergonomic controls and switches, and low sound levels (less than 80 decibels).
To further improve operator productivity, the machine is equipped with a smart drill monitoring system that tracks changes in rock formation and automatically adjusts impact and feed pressure based on hardness of the rock. The system's anti-jam, anti-plunge and anti-plug capabilities keep the track drill working efficiently and extend drill string life.
Maximize uptime with quick maintenance, innovative service technology
Maintenance and service technicians appreciate the MD5150's simple component layout and convenient service access. A walk-in service station provides easy access to major service points for the engine, compressor, air conditioner, hydraulic valves and more. A boom-mounted camera allows constant visibility to the front of the drill while working inside the service center.
In addition to its serviceable design, the new track drill leverages exclusive Caterpillar technologies that maximize uptime. Caterpillar Electronic Technician (Cat ET) speeds the troubleshooting process, improving repair accuracy and reducing downtime. Cat Product Link allows remote monitoring of machine location, service meter hours, fuel usage and other critical factors, providing owners the information they need to optimize utilization and reduce owning and operating costs.
Cat dealers support the new MD5150 with best-in-class parts availability, quality repairs and equipment management expertise that helps owners meet aggressive production goals at the lowest cost per ton.
Work efficiently and responsibly for generations to come
Several features of the new track drill allow miners and large contractors to improve efficiency, while reducing environmental impact. A high-capacity dust collection system works quickly and quietly while consuming less power than traditional dust collectors. The C11 engine offers excellent fuel economy and reduced emissions. The machine's auto lube systems are clean and efficient. Major components are designed to be rebuilt for second lives, and Cat dealers offer a full selection of remanufactured parts and components.