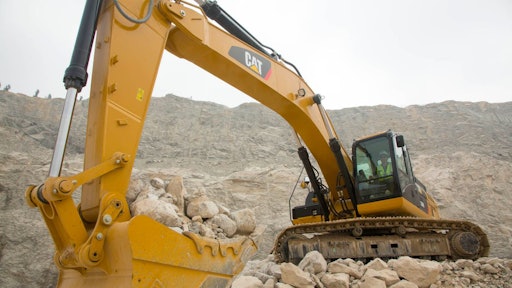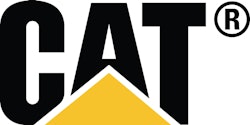 The new Cat 336D2 (Series 2) is a powerful, productive, 36-metric-ton-class machine that adds technical refinement to the solid design of its 336D predecessor. Reliability and durability remain the foundation of the 336D2, and more customer value has been added through an improved fuel system that enhances reliability and helps reduce fuel consumption—all to lower operating costs. Add in an enhanced hydraulic system, operator convenience and safety features, simplified routine maintenance, and versatile performance with a range of Cat work tools and users have a highly productive, fuel-efficient machine that's built to take on many demanding heavy-duty construction projects.
The 336D2 uses the Cat C9 ACERT engine that meets U.S. EPA Tier 2 equivalent emissions standards. (A Tier 3 equivalent package is also available where required.) The C9 engine features precise electronic management of fuel and air to ensure optimum performance in all operating situations with exceptional fuel economy. The engine runs at constant speed, 1,700 rpm, which further contributes to fuel economy and reduced sound levels without compromising machine production. The new three-stage fuel filtration system on the 336D2 effectively removes harmful contaminants from potentially low-quality fuel, resulting in enhanced uptime and longer service life for fuel system components..
Hydraulics
The hydraulic system features a new electric pressure sensor that reduces hydraulic flow from the pump during light-load or no-load situations, which helps conserve fuel. The engine and machine electronic control modules work in an integrated manner to provide optimum work power precisely where and when it is needed.
With a maximum pressure of 35 MPa and maximum oil flow of 2 x 265 L/min, the 336D2 provides superior hydraulic horsepower for digging and lifting as well as for using heavy-duty, hydraulically powered work tools. The pilot-type hydraulic system provides low-effort operation and precise control for optimum efficiency.
Structures
The 336D2 features robust construction in its mainframe, car body, track frames, and front linkage. To allow customers latitude when equipping the 336D2 for maximum production in specific applications, both standard and long undercarriages are available options as are two booms and five sticks (availability depends on region). The 6.5-meter reach boom can be equipped with a choice of three sticks: 2.8, 3.2, and 3.9 m. The 6.18-meter mass excavation boom has two stick choices: 2.15 and 2.55 m.
All front linkage features high-strength-steel and box-section construction with internal baffles for added durability and long service life in the severest applications. The linkage also is equipped with high-strength, large-diameter, abrasion-resistant pivot pins that can easily be serviced if needed.
The versatile 336D2 can use a wide range of pin-on or coupler-type buckets and work tools to fit the machine for optimum performance and durability in its working environment. Buckets feature precise geometry for easy loading, which speeds digging cycles, increases production, and conserves fuel. Work tools options (depending on region) include hammers, grapples, shears, multi-processors, compactors, and rippers. Cat couplers allow the operator to quickly change work tools and move from task to task for optimum machine utilization.
Operator environment, serviceability
The ergonomically designed operator station is spacious, quiet, and comfortable. It is equipped with an easy-to-read monitor, low-effort joystick controls, and climate-control features for maximum operator comfort. The standard suspension seat is adjustable to accommodate a wide range of operators and to enhance operator comfort and efficiency.
Large windows ensure all-around visibility and promote job site safety. Viscous rubber cab mounts dampen both vibration and sound transmitted to the operator station, further enhancing operator comfort and productivity.
The 336D2 features ground-level access to most routine service points, including filters, radiator, and air-to-air aftercooler. A central grease block on the boom allows easy lubrication of the front linkage, and the S•O•S (Scheduled Oil Sampling) ports ensure quality samples from circulating fluid in the engine, hydraulic, and cooling systems. Convenient hydraulic test ports allow safe, accurate checks of system pressures.