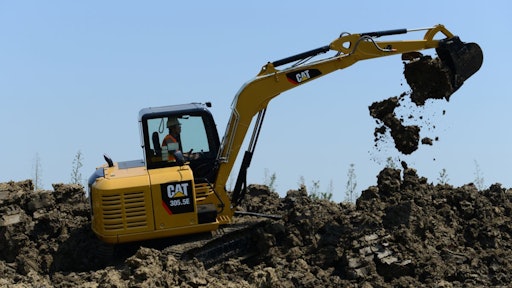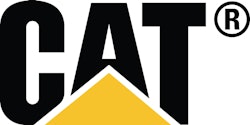 Engineered to combine durable construction and reliable performance with low operating costs, the new Cat 305.5E mini hydraulic excavator is a conventional tail swing, fixed side boom model with an operating weight of 5,300 kg (11,700 lbs.). The new model further expands the E Series mini hydraulic excavator lineup that was launched earlier this year in June in China. Along with the 306E and 307E, this model will be manufactured at the Caterpillar facility in Wujiang, P.R. China.
The new model uses a fuel efficient Cat C2.4 DI engine with a net power rating of 32 kW (43 hp) and features a powerful load-sensing hydraulic system with standard auxiliary hydraulic valve section. Operator comfort is ensured with a spacious, air-conditioned cab that features pilot operated joystick controllers and a high-back seat. The C2.4 engine features a new direct injection fuel system that delivers optimum fuel efficiency. A high ambient temperature cooling system is standard featuring stacked coolers for a compact design. A 12V electrical system ensures reliable performance and requires only one battery. An available optional water-jacket heater package improves the engine's cold start capability to temperatures below -15.7 C (4 F).
The 305.5E uses the exclusive Cat load sensing, flow sharing hydraulic system which is designed to balance oil flow requirements for simultaneous hydraulic functions with engine speed and power. The system is designed to provide precise, rapid hydraulic response for reduced cycle times in all operating situations. The two speed hydrostatic drive system has the power to negotiate steep grades and can counter-rotate in either speed range.
Front linkage for the 305.5E uses heavy duty box section fabrications for the curved boom and stick, and the bearing sleeves at linkage pivot points are oil impregnated to extend lubrication intervals to 500 hours in normal use. Both the boom and stick cylinders provide dampened movement at the end of their stroke to reduce shock loads and to optimize material retention. An auxiliary hydraulic valve section is standard equipment, and optional plumbing brings hydraulic connections to the boom foot and stick, allowing use of powered work tools.
The 305.5E incorporates heavy-duty upper and lower frame structures, as well as a heavy-duty undercarriage that provides a large base for stability when digging and lifting. In addition, it has a standard blade with a float function, further enhancing stability and increasing the machine's versatility by providing added back-filling and grading capabilities.
The standard enclosed cab, with air conditioning, has a tilt-up, hydraulic lockout lever, ensuring that the operator cannot leave the seat without disabling implement and drive-system hydraulics, providing added safety. Low effort pilot operated joystick levers allow precise control of implement hydraulic functions.
Operator comfort is enhanced with adjustable wrist rests adjacent to the joysticks and with the high back suspension seat. A radio with auxiliary inputs is standard, and cab ventilation is enhanced with a new fresh air filter on the left side of the cab. A new floor mat and footrest add to the overall utility of the cab.
Serviceability features include one side engine maintenance and large access doors that facilitate routine maintenance. Hydraulic filter maintenance is extended to 2,000 hours. New tool box and grease can holder are built into the 305.5E's right platform, and an added service-access step allows a larger and safer platform for performing machine maintenance.