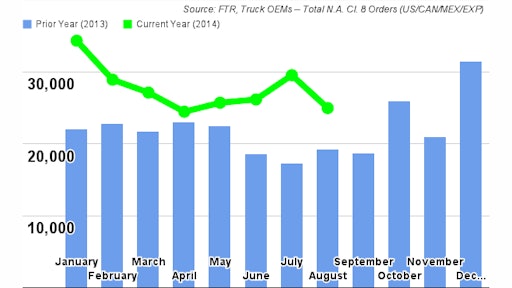 FTR has released preliminary data showing August 2014 North American Class 8 truck net orders at 24,947 units, a year-over-year increase of 29%. Class 8 orders have now had 19 consecutive months with year-over-year increases. August orders, while helped somewhat by summer dealer incentive programs, were the strongest for the month since 2005. Class 8 orders for the latest six month period through August annualize to 316,000 units.
Don Ake, FTR Vice President of Commercial Vehicles, comments, "The strength of August orders was not broad-based; and the volume is not as positive as it appears because orders were driven, in part, by dealer incentive programs. Regardless, business activity remained healthy in August and the Class 8 market is still robust coming out of the summer season. Order volume was consistent with the FTR forecast."

Final data for August will be available from FTR later in the month as part of its North American Commercial Truck & Trailer Outlook service.