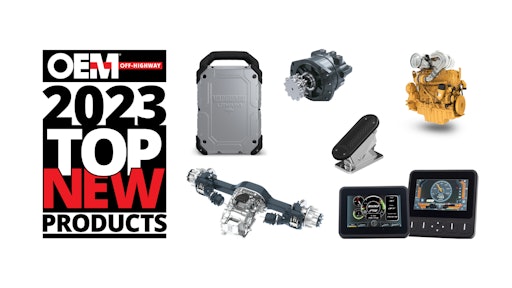 For nearly 40 years, OEM Off-Highway has worked with manufacturers across to globe to identify today's top product introductions and upgrades and share them with our readers.
Our Top New Products award, returning for its 15th year, is designed to highlight the ingenuity of today's design teams and showcase the innovation behind some of the latest product launches in the mobile on- and off-road equipment manufacturing space. Read on for the latest information behind several of the industry's top new releases, including product features, specs and more.
The winners highlighted in the following pages have been selected from the best in a global submission process and represent OEMs offering exciting new products in each of the following categories:
Engines
Drivetrains
Fluid Power
Electrical & Electronics
Operator Cab
Engineering & Manufacturing
_____________________________________________________________
Winner: Engines
Cat C13D from Caterpillar Inc.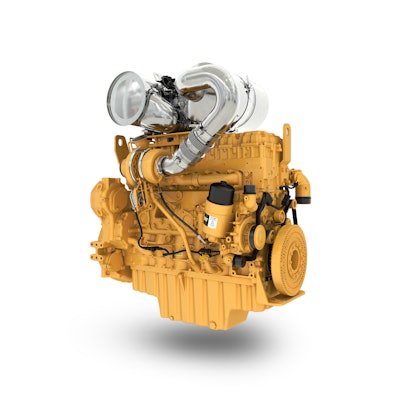 The new 13-liter diesel engine platform is designed for best-in-class power density, torque and fuel efficiency for optimizing the performance of heavy duty off-highway applications. The inline, six-cylinder engine platform offers eight power ratings from 456 to 690 hp with up to 3,200 Nm of peak torque. OEMs can downsize the engine and simplify design, assembly and supply chain requirements across multiple applications. The engine is targeted for a wide range of off-highway equipment and offers up to a 20% increase in power and up to 25% more low-speed torque over the previous generation. It is designed to perform at altitudes of up to 12,000 feet and in extreme ambient temperatures with aids. New engineering improvements include integrating components and reducing the number of leak joints by more than 45%. The upgrades result in lower fluids consumption and extended service intervals as long as 1,000 hours, reducing operating costs and downtime. The engine platform enables the use of renewable liquid fuels, such as 100% HVO, B100 Distilled Biodiesel, and up to B100 Standard Biodiesel. Its core architecture is designed for the future development of natural gas and hydrogen fuel capabilities. By modularizing and eliminating components, its architecture can accommodate configuration adjustments anticipated for future tiers of emission standards in the U.S. and EU without relocating customer connection points.
Winner: Drivetrains
Brake-By-Wire Solutions from ZF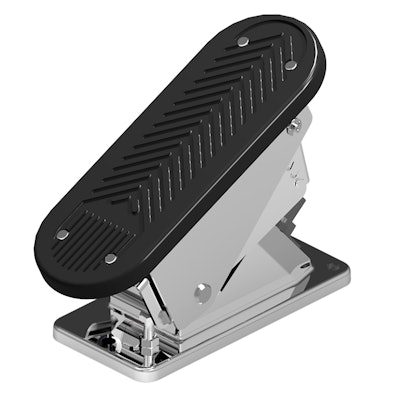 ZF's new brake-by-wire system offers a universal solution designed to support the transition from mechanical to intelligent braking technology that is easily scalable, while providing braking safety and driver comfort. The advanced brake-by-wire solutions provide vehicle manufacturers the ability to control deceleration via an electronic signal that adjusts brake pressure when needed, removing the need for hydraulic lines in the cab. The system is comprised of three components: an electronic pedal, electrohydraulic brake valve and an Electronic Control Unit (ECU).
Together, the system offers vehicle manufacturers ease of installation, electrohydraulic brake valves for precision brake control and adaptable pedal response/brake feel that can be customized to fit a vehicle's brand identity. It also provides key operator benefits including reduced cabin noise, and passenger car-like comfort for brake feel.
Winner: Fluid Power
Thorx CLM 8 S cam lobe motor from Danfoss Power Solutions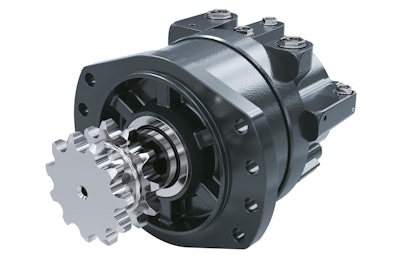 Designed for construction machinery with chain drives, such as skid steer loaders, the motor offers better performance, higher efficiency and longer lifetime. The motor features newly developed two-speed technology, which offers 70% shock reduction when shifting speeds. The technology delivers smoother speed changeover with a consistent, quick response time, regardless of temperature. The motor also produces less noise when shifting. Compact construction is another major advantage of the Thorx CLM 8 S motor. By integrating the parking brake rather than bolting it to the rear, the motor is 33% shorter in length than other cam lobe motors, making it the most compact solution in its class. The smaller size results in easier integration and assembly for OEMs while enabling the use of larger, longer-lasting chains. The integral parking brake is the toughest on the market, offering a longer service life. Utilizes a brake design that has been optimized to withstand 100 dynamic emergency stops throughout a machine's lifetime, 20 to 25 times more than competitive cam lobe motors. The motor offers 5% higher efficiency than other cam lobe motors, with better starting efficiency and performance at low rotations per minute, plus improved mechanical efficiency at high speed. Operators can achieve faster travel speeds or use less power at the same speed while wasting less energy in the form of excess heat.
Winner: Electrical & Electronics
Vanguard Lithium-Ion 48V 1.5kWh* Commercial Battery (Si1.5) from Briggs & Stratton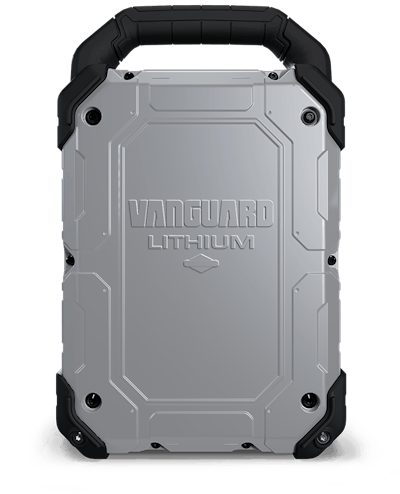 The exchangeable design of the 1.5kWh Commercial Battery empowers users to swiftly swap freshly charged packs from application to application and is built to bring efficiency, versatility and reliability to users in multiple industries that require battery power. The integrated Battery Management System constantly measures the pack's voltage and temperature to ensure safe and efficient operations. When designing the 1.5kWh Commercial Battery, safety and durability were top of mind for Vanguard. The company applied its learnings from other commercial batteries to ensure that the battery's diecast aluminum casing adds rigidity and reduces vibration and shock response from the pack. The 1.5kWh Commercial Battery is tested to ensure that it is able to withstand the toughest of environments and is durable against the extreme temperatures, abuse, moisture and dirt of jobsites. This makes it a good solution for landscape, concrete and mining applications. The battery features a 1,000-cycle lifespan with virtually no maintenance, so operators can depend on instant power for the job at hand. With a standard charge time of less than two hours, this next-generation battery will have an immediate impact on the off-highway industry as more OEMs realize the many benefits of electrification and look to bring their own battery-powered products to market.
Winner: Operator Cab
Linux 713/714 Display Series from HED, Inc.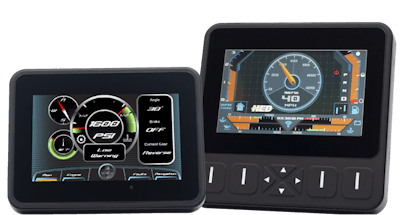 Designed for rugged mobile applications, the new Linux PCAP touchscreen displays allow for use with gloved hands, and are IP67 sealed and sunlight readable. Offering ultra-wide, 80-degree viewing angles from all directions, these displays can be incorporated into a variety of applications, such as a digital dashboard for electric vehicles. Highly configurable with inputs, outputs, touchscreen, video inputs, Ethernet, wireless communication, and can be programmed using today's popular tools, such as Crank, Qt and CODESYS. The 5- and 7-inch displays offer optional buttons, integrated I/O options, an economical price point that enables OEMs with smaller and/or lower cost vehicles to design a compact, modern display that offers features for a wide variety of applications.
Features include: Linux operating system; Programming tools supported: Crank Storyboard, CODESYS, Open Platform; Cortex A7 ARM Microprocessor running at 800MHz; 4GB eMMC FLASH (option for 8 – with minimum order required); 512MB DDR3 RAM; Sealed enclosure for external mounting; Panel and RAM mount capable; LCD optically bonded to hardened glass lens with AR film; Sunlight readable 5-inch TFT Color LCD display; 800x480 pixel resolution; LED Backlight with 800 cd/m2 (nits) brightness; Ambient Light Sensor; (2) CAN ports; (1) USB OTG (capable of supplying up to 500mA to device): Software updates directly from USB Memory Device, Interface to PC software tools; Low Power Sleep Mode with Wake-Up by following methods: Digital input on connector, CAN traffic, time set by software using Real Time Clock; Optional features include: PCAP Touch Screen that works with moisture and gloves (option); Real Time Clock with internal battery (option, 15 year life); (1) Ethernet 10/100 Base-T (option); (2) Video inputs, NTSC & PAL supported (option), one shown on LCD at a time (not simultaneously), Video Window location and size are programmable with graphics sharing remainder of screen; Wi-Fi and Bluetooth (option), dual-band Wi-Fi 802.11, Bluetooth 4.2 + BLEI/O available (optional); Discrete Inputs and Outputs; Specifications: Operating voltage range: 8-32 VDC; Operating temperature: -40°C to +70°C; Storage temperature: -40°C to 80°CIP; Rating: IP67
Winner: Engineering & Manufacturing
Allison eGen Power 130S from Allison Transmission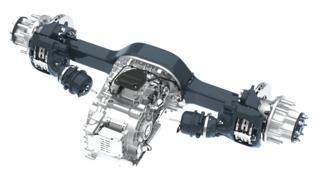 Allison eGen Power 130SAllison Transmission
The Allison eGen Power 130S is the latest product to be introduced to the company's eGen Power family of fully electric axles. eGen Power e-Axles are designed to fit between the wheels of medium and heavy-duty trucks and buses, replacing the vehicle's traditional powertrain. eGen Power is a bolt-in solution compatible and easily customizable to current vehicle frames, suspensions and wheel ends, and is well suited to most OEM vehicle assembly processes. Allison has developed a broad portfolio of e-Axles, each purpose-built to meet the unique demands of its customer base as they evaluate electric commercial vehicle capabilities. Every e-Axle available under the eGen Power family was designed to address the needs of a specific market segment or segment of vehicles. The eGen Power 130S was developed for the Europe and Asia-Pacific regions. Key components of the e-Axle, including new suspension systems, V-rod brackets, banjo housing, brakes, wheel ends and axle spindles, were designed specifically to support the heavier 13-ton gross axle weight rating often required by commercial vehicles in Europe and Asia-Pacific markets.
The 130S uses a single motor to generate 225 kilowatts of continuous power, with a peak power of 325 kilowatts, and 26,000 newton meters of torque at the wheels. It supports a recommended voltage range of 550-850 V. It also features a two-speed parallel axis gear architecture, efficiently meeting application launch and highway cruise demands, while maximizing energy recovery through 100% regenerative braking capability.
_____________________________________________________________
OEM Off-Highway's Top New Products awards will return for its 16th installment in 2024. Visit oemoffhighway.com/awards for the latest information, submission deadlines and announcements.