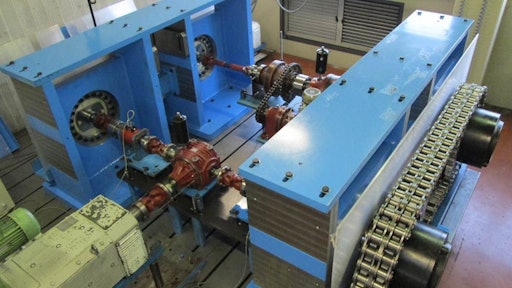 In recent years, power transmission manufacturer Comer Industries has expanded its product range in mobile agriculture and industrial markets with rotating housing, planetary drives. The models, PGRF-7003, 9003 and 11003, meet the need for more compact, rugged and interchangeable units to match the increasingly demanding technical requirements coming from OEMs and the market alike.
Comer Industries has begun serial production on a few applications, among them, one of the first machines to actively work in the field equipped with the PGRF-11003–the Hydramaxx 3310 self-contained plow from Port Industries Inc. Through co-engineering activities and data acquisition in the field, Comer Industries and Port Industries found the PGRF-11003 fit the machine's duty cycle of high torque and relative high speed generating high power requirements continuously.
The ground sun and planet gears, meshing with the nitrited ring gears and being supported by forged alloy steel planet carriers, give the PGRF-11003 the reliability required by rugged off-highway machines where high shock loads are common during the lifespan of the gearboxes. On top of that, the usage of high load tapered roller bearings, instead of spherical ball bearings, guarantee less specific pressure on the rollers and longer life, even in presence of heavy machines or high pulling force. These are all typical working conditions and features of the Hydramaxx 3310 trencher during the plowing phase.
This planetary design and layout—which can fit a sprocket, a rim of a wheel, a winch, or a drum—can be used across a wide range of heavy-duty machines, like tractors or dozers, drilling or forestry machines, or can withstand the rope pulling forces of a winch or a crane.
This design has the main following features:
Three planetary stages reduction (two planetary stages available on demand)
Wide range of ratios, from 70 to 250, targeting multiple applications
Designed to fit the most common axial piston motors from 90 to 160 cm3 in cartridge plug-in style or up to 250 cm3 in SAE style, variable or fix displacement
Parking and emergency brake with multiple friction discs (SAHR type), available both for high and low pressure activation
Different interface layout, depending on application: wheel or track type, crawler type, winch type
Disconnection option for machine towing in case of need due to system failure.
Main specific features of these models, in terms of output torque, are:
PGRF-7003: 70,000 Nm peak output torque, 43,750 Nm continuous
PGRF-9003: 90,000 Nm peak output torque, 56,250 Nm continuous
PGRF-11003: 110,000 Nm peak output torque, 67,500 Nm continuous.
The next challenge for Comer Industries in the area of final drive is to grow to higher peak output torques of 220,000 Nm and more, which is already underway.