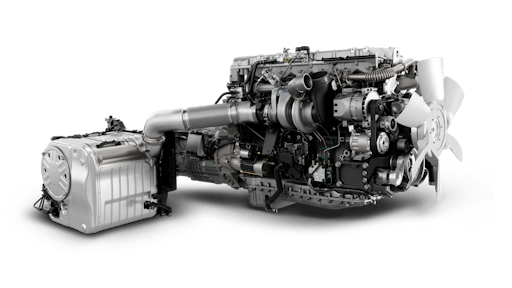 Navistar
Navistar introduced the International S13 Integrated Powertrain to the North American market during an exclusive, live event held for dealers, customers and industry press at the Las Vegas Motor Speedway on August 16, 2022. I was excited to attend representing the OEM Off-Highway team and learn about this innovative and collaborative modular powertrain. Developed over 5 years through global collaboration with the TRATON GROUP, the S13 Integrated Powertrain will provide superior operating economy, stellar performance, and simplicity and serviceability to the North American commercial vehicle market.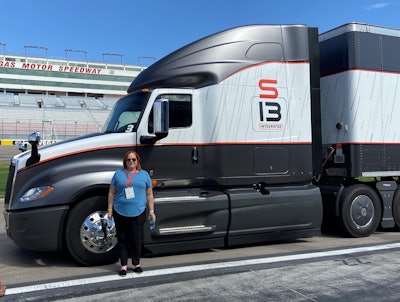 During presentations from Navistar and International Truck executives, the system was revealed. It includes three distinct components: the S13 engine, the T14 transmission and an aftertreatment system. The engine, transmission and aftertreatment were developed and integrated concurrently, ensuring efficiency without compromising performance.
Why an internal combustion engine (ICE) fueled by diesel? Electric is the future, but until the infrastructure is in place for charging large, commercial trucks, ICEs will continue to be needed. Improving their fuel efficiency and reducing or negating their emissions is required and regulations will continue to tighten. The S13 Integrated Powertrain will provide energy savings up to 15% and will be up to 30 pounds lighter than tradition powertrains.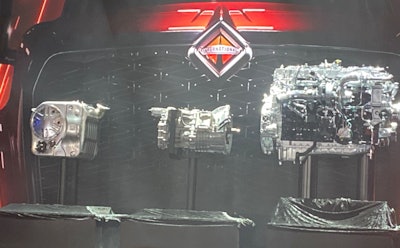 The S13 engine and T14 transmission will be manufactured in Huntsville, Alabama, at a Navistar plant that began expansion to produce powertrains in April 2022. Why did they choose Huntsville? According to Michael Grahe, head of operations, Navistar, in our interview, the seeds for the production were already planted.
"We were already building the International A26 Engine in Huntsville. This is our powertrain plant, and we had expanded the plant. We have the workforce there who is experienced in engines. [Adding the production of the transmission] was a way that they can grow, and we had great collaboration with the city."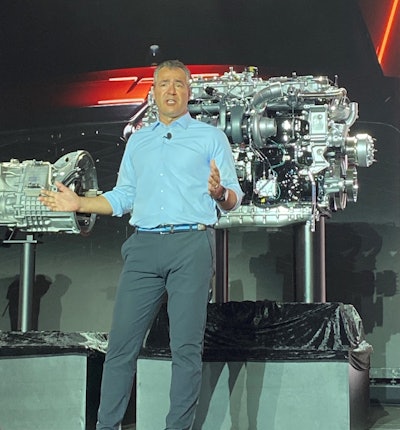 The Difference
The S13 Integrated Powertrain has differences that gives it a simplicity of design and decreased fuel use. The process of designing this system involved a full, clean-sheet collaboration between teams. This is what excited Michael Grahe most.
"First, there is a technical aspect," Grahe said. "Imagine that you can push boundaries. I've been in the commercial vehicle industry for a little bit longer. You get to certain level, and you think … that's it. But you then go back and rethink the approach, and this clean slate design considering SCR from the beginning, that you can reach another level. It's just fascinating.
"The human part is just fascinating for me to see how Germans, Swedes and Americans who worked together with different backgrounds and different cultures, how you find a way with a common goal and purpose. Everyone brings what they have to the table. The diversity really helped."
The S13 Engine
The 13-liter International S13 engine operates on low revolutions and higher torque equating to fewer fuel injections and less fuel consumption. Designed with selective catalytic reduction (SCR) technology as the primary emissions reduction technology in mind, the S13 engine has no exhaust gas recirculation (EGR) cooler and flows 100% of the exhaust to the turbocharger during normal engine normal operation.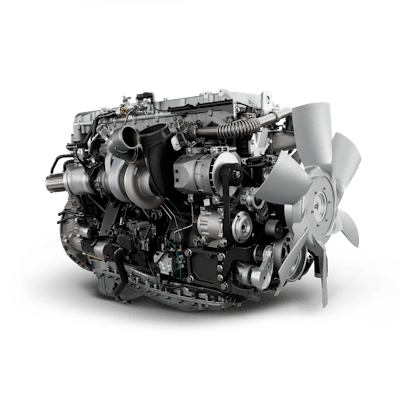 Eliminating the recirculation of exhaust gas ensures a more complete fuel burn and allows cleaner air to enter the combustion chamber on the intake cycle to mitigate soot buildup, requiring fewer maintenance intervals for filter changes. To further the reliability of the system and improve uptime, the designers eliminated and efficiencies in multiple areas. One difference is a fixed geometry turbocharger. This was chosen instead of a variable geometry turbocharger because it reduces system complexity and increases reliability.
Low friction materials and finishes are used for the liners, rings and bearings. The design eliminated the downstream fuel injector, and the high-pressure fuel pump operates at a lower pressure of 1,800 bar. Additional features include:
A dual overhead cam design and cast aluminum cam cover and oil pan
23:1 compression ratio
A compression release brake for maximum engine braking power
The compacted graphite iron block of the S13 engine combined with a cast aluminum cam cover and oil pan help make this the lightest weight 13L powertrain available in North America, according to the Navistar team at the event and the press release. When it comes to performance, the S13 engine has seven engine rating options, with a maximum of 515 horsepower and 1,850 pound-foot of torque at 2,000 rpm governing speed.
The T14 Transmission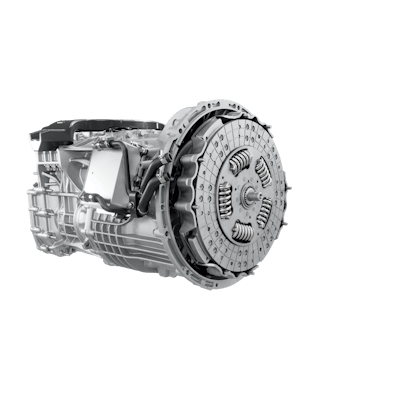 The International T14 transmission, the first manufactured by Navistar, is a 14-speed, fully automated manual transmission with an electronic clutch actuator to deliver faster, smoother shifting. As part of the clean-sheet design, shifting logic and integrated software controls maximize efficiency and performance resulting in gear shifting that is matched to engine revolutions.
The T14 features a planetary gear set that supports a compact design and optional programmable reverse speeds. This transmission has two crawler gears for improved heavy-load startability and low-speed maneuvering. With deep, low-end gearing and shifting smoothness, the T14 delivers efficiencies of a direct drive in an overdrive package. The smoothness was evident when driving the truck, even for this novice.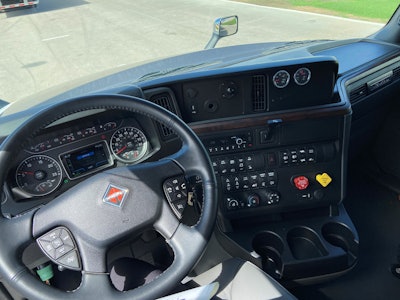 The S13 Integrated Powertrain offers increased power, with the full torque available at 900 rpm to support drivability. Drivers have shift-on-the-fly capabilities with Economy, Performance and Performance+ modes. Also included are intelligent shifting capabilities, like skip shifting and turning radius offsets.
In addition to multiple shifting capabilities, the T14 transmission includes options for low-speed maneuvering, hill hold and initial vehicle movement modes.
Aftertreatment
The dual-stage aftertreatment is purpose built with easy access for serviceability. It also provides improved emissions control and fuel efficiency. To keep temperatures at an optimal range and extend service intervals, the aftertreatment system includes a dual-stage SCR catalyst system in a one-box design. The system cleans up the NOx with diesel exhaust fluid (DEF) dosing right after the turbocharger and a second dosing in the aftertreatment system.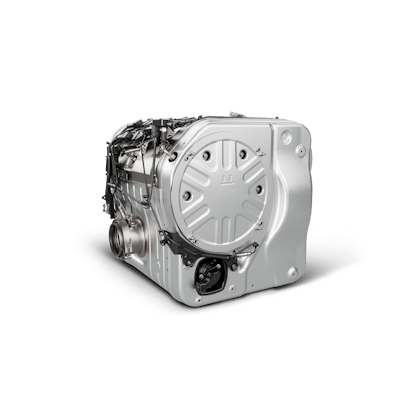 Since an EGR cooler was eliminated, less soot and particulate matter are generated. This cleaner combustion cycle allows for extended service intervals and eliminates the need for an active regeneration cycle and the diesel oxidation catalyst. By employing a design that eliminates the need for active diesel particulate filter regeneration, the aftertreatment system saves fleets time and fuel.
"To ensure superior performance and reliability of the S13 Integrated Powertrain, it's been designed to meet the toughest requirements of the North American market," said Grahe. "Before this integrated powertrain goes into serial production, this product will have logged more than 4 million miles of field testing on North American roads. We are testing on all terrains—from the desert of Arizona to the frozen tundra of Alaska."
Other Improvements Outside the Powertrain
The two models on display during the Las Vegas event were the LT and RH. These vehicles have chassis changes, including a more aerodynamic design, which helps decrease fuel consumption. This aero package includes:
DEF and fuel fill closeouts allow air to flow smoothly over the chassis skirts.

Steer wheel closeouts and a modified lower skirt trim improves underbody air flow by restricting air flow through the wheel opening.

A new

roof extender improves air flow between the tractor and trailer gap.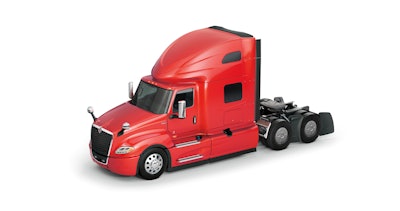 Another feature is an automatic parking brake. The electronic parking brake technology automatically engages the vehicle and trailer parking brakes if the driver forgets to set them.
OnCommand Connection, Navistar's connected services platform, will come standard and offer programmable parameters, over-the-air calibration changes and software updates. The powertrain's predictive capabilities help fleet owners and service managers stay ahead of potential service needs. International 360, Navistar's service communications tool designed to accelerate the repair process and streamline dealer communications, is also an available option to customers. This combines fleet monitoring and preventive maintenance to increase uptime, have fewer unplanned events and extend service intervals to keep customers' businesses operating.