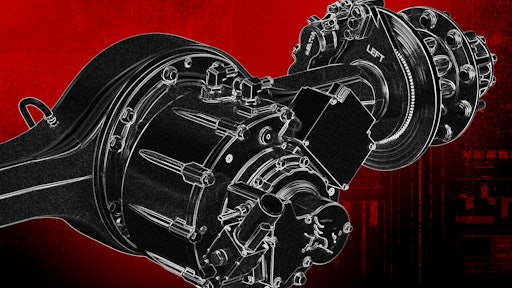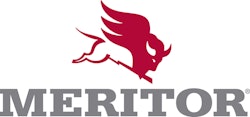 Meritor Inc. announces it is developing a platform of electric drive axles and suspensions, as well as supporting systems to position Meritor as a leader in electric solutions for the commercial vehicle market.
"Essentially, we're focusing on integrating an electric motor into the differential carrier," says Jay Craig, CEO and President for Meritor. "As we look to future emissions regulations and our customers' desire for more efficiency, we're developing new and innovative solutions to expand our product portfolio."
Meritor's flexible e-carrier design will be the foundation for various drivetrain configurations, including full electric, hybrid, single or tandem axles with various options based on application, according to Craig. Designed for city-delivery, medium-duty and transit bus, as well as off-road and severe-duty applications, the electrified, lightweight carrier offers several benefits over remote-mounted electric motor configurations. Meritor designed the e-carrier as a drop-in replacement of a conventional mechanical carrier that does not disrupt axle or suspension packaging. Because the electric motor is integrated into the axle, space is freed up for batteries and other electrical components, offering easier packaging and installation and a safer, more protected location inside the frame rails to mount the batteries. The solution also eliminates cost and weight associated with a driveline and mounting a remote motor with brackets.
The following near-term electrified product solutions are under development by Meritor:
Integrated two-speed electric carrier platform capable of delivering 150-200 kW of continuous power for mounting on existing axle platforms, fitting a wide variety of applications on rigid and independent suspensions
13Xe rigid axle, capable of 200 kW of continuous power and featuring customizable gearing to cover linehaul, school bus, refuse, pickup and delivery, utility and other applications
Electric-driving independent suspension for applications such as military, emergency, off-highway and construction vehicles that will benefit from increased performance as well as better ride comfort and handling
Electric eCorner module for low-floor applications such as medium-duty Classes 4 and 5, pickup and delivery, and transit buses.
Meritor will also offer braking systems optimized for e-axles. The Next Generation Quadraulic brake and Next Generation Air Disc Brake have been designed for use on hybrid or electric vehicles with regenerative braking. Both brakes reduce weight on wheel-ends, according to Craig.
Each of these product solutions focuses on increased fuel economy and efficient performance as well as drivability, emphasizing on-demand torque response of the electric motors. The components will be part of a demonstration vehicle to be built in 2018, with production beginning as early as 2019.
"These emerging electric solutions reflect Meritor's commitment to develop axle, suspension and brake technologies that support our technology roadmaps and future product plans based on our customers' needs," Craig says.