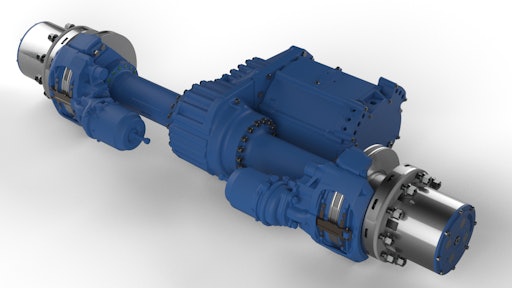 AxleTech International announces its partnership with TM4 to develop integrated electric axles (e-axles) for heavy-duty vehicles.
As part of AxleTech's Electric Drivetrain Systems product line, the company is developing e-axles with patent-pending multiple-speed gearboxes that are integrated with electric motors. These drivetrain systems are compact, light, quiet, and easier to integrate in the vehicle platform and chassis.
TM4 brings its advanced expertise as a leading manufacturer of electric motors, controllers, and inverters. The company's adapted electric powertrain is designed to integrate into AxleTech's heavy-duty planetary axles.
"TM4 is proud to cooperate with AxleTech on this new exciting program," says Patrice Dupont, Business Development Manager at TM4. "We believe that by aligning each company's strengths, AxleTech will bring to the market a competitive and innovative solution."
The integrated system provides optimal packaging and operating efficiency to a range of on- and off-highway vehicles, AxleTech aims to bring these new electric axles to the market soon.
"Our customers are seeking new electric drivetrain solutions, so having industry leading partners such as TM4 enables us to jointly develop complete drivetrain systems that meet their requirements," says Jason Gies, Business Development Manager at AxleTech.
Companies in this article