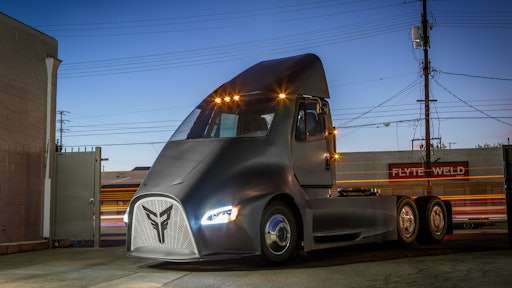 AxleTech announced it is developing a heavy-duty e-powertrain system with Thor Trucks, a fleet-focused transportation lab building fully electric commercial trucks. AxleTech and Thor Trucks will integrate AxleTech's e-axle technology with Thor's proprietary battery technology to create a fully electric commercial vehicle powertrain.
"Electric powertrains for on-highway use are rapidly advancing at a global scale, and AxleTech's technology has kept pace with this evolution," says Bill Gryzenia, CEO, AxleTech. "Due to the acute market need for these solutions, we are proud to work alongside Thor Trucks to build the most advanced integrated powertrain components for driveline electrification. Our team takes this role seriously and is relentless in identifying and developing the next generation of electric powertrain systems."
Thor Trucks is a California-based transportation lab focused on electrifying commercial fleets. Founded by fleet operators with vast knowledge of the industry, Thor Trucks builds fully electric trucks, including the battery, for medium-duty commercial applications. In July 2018, Thor Trucks announced it will partner with UPS to build and test two fully-electric delivery trucks in the greater Los Angeles Area.
"Thor Tucks will benefit tremendously from AxleTech's industry-leading powertrain expertise as we work to meet the market's increasing demand for electrification," says Giordano Sordoni, co-founder and COO of Thor Trucks. "This partnership is a significant stride forward in our pursuit to transform the commercial transportation industry."
Earlier this year, AxleTech unveiled its next-generation electric independent suspension concept for high-mobility applications. AxleTech's 5000 Series eISAS™ concept enhances performance and has the ability to improve stealth characteristics, lower heat signatures, and improve fuel savings to logistics vehicles, tactical vehicles, and armored personnel carriers.
AxleTech plans to launch its newest e-powertrain offering – recently named a 2019 Automotive News PACE Awards finalist for its innovation – in January 2019.