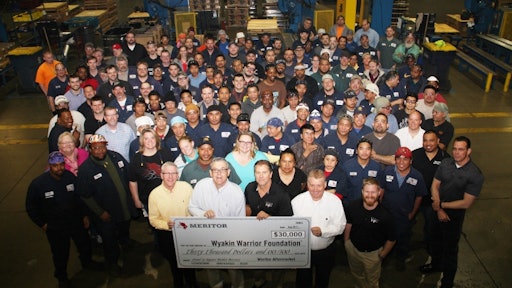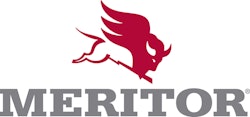 Staff Sgt. George Nickel of the U.S. Army Reserve's 321st Engineer Battalion was in a Mine-Resistant Ambush Protected (MRAP) vehicle with three other soldiers clearing the route to a downed helicopter in central Iraq when they ran over a 500-pound insurgent bomb. Only Nickel survived the February 2007 explosion, and he spent months recovering from traumatic brain injury and eight serious fractures.
Meritor Inc., which has a 100-year tradition of supporting the U.S. military, is partnering with the Boise, ID-based Wyakin Warrior Foundation to help Nickel and other severely wounded veterans achieve professional and personal success. Meritor announces it made a $50,000 contribution to the foundation, which mentors and gives financial assistance to veterans who are pursuing degrees in many areas, including engineering, business, law, criminal justice, education and computer science.
In January, Meritor launched its "Shoes for Soldiers" campaign, which earmarked a percentage of its remanufactured brake shoe sales to the Wyakin Warrior Foundation. Meritor's $50,000 contribution includes a $20,000 match from the Meritor Trust Fund.
"It's important to assist wounded veterans who have the motivation but lack the education and training to become leaders in business, government and community," says Tim Bauer, Director, Remanufacturing for Meritor. "These men and women have made tremendous sacrifices for us, and they've earned the kind of developmental assistance Wyakin offers."
Meritor's contribution will provide funding to Wyakin Warriors for additional veterans. The cost of the 60-month Wyakin Warrior program is $25,000 per veteran.
"Meritor has a long history of supporting the U.S. military, and we designed 'Shoes for Soldiers' to help the Wyakin Warrior Foundation fulfill its mission of positioning severely wounded veterans for success," says Krista Sohm, Vice President, Marketing & Communications for Meritor Inc.
Participants in the Wyakin Warrior program receive educational and financial support, attend monthly professional development seminars, build job skills and a professional network, and successfully complete a certification or degree, culminating in job placement in a meaningful career.
"We're so grateful to Meritor for this contribution," says Roy Ledesma, Director of Operations, Wyakin Warrior Foundation. "It's definitely going to impact these warriors in a positive way by assisting them in their transition from the battlefield to successful careers. It'll have a direct impact on the lives of these heroes and their families."
Ledesma says more than 52,000 military service personnel have been injured since the 9/11 attacks on Washington, D.C. and New York City. Now in its fifth year, the foundation focuses on the most severely injured or ill who face the greatest challenges in building a successful civilian life. Twenty-six veterans are supported by the Wyakin Warrior program. A "wyakin," according to Native American legend, is a spiritual guide who advises and protects a person throughout life.
In Nickel's case, help came just in time. Unable to return to military service or his civilian job as an Idaho state prison corrections officer, he began to drink heavily and served eight months in jail and almost a year in rehab.
"It was a really bad time, not being able to resume my 20-year career in the Army and losing my civilian job," the 44-year-old Boise, ID resident says. "I really had to turn things around and get the kind of guidance I needed to function in the civilian sector."
Nickel has earned a bachelor's degree in psychology and will complete his master's degree next year. He now works as Wyakin Warriors' Director of Student and Veteran Affairs and plans to become a clinical social worker who helps arrange resources for veterans facing crises so they don't suffer the legal setbacks as he did.
"Wyakin Warriors really helped make all of this possible by focusing me and pointing me in the right direction so I can achieve these goals," Nickel says. "They don't take a cookie-cutter approach to making people successful, and I wasn't just another case number. The entire program is very individualized to suit the unique needs of each Wyakin Warrior."