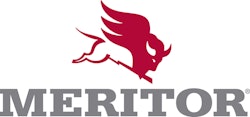 Meritor Inc. announces the appointment of Ernie DeVincent as Vice President, Engineering, Quality and Product Strategy, effective February 1. In this role, DeVincent will have direct responsibility for Meritor's global research and development activities, advanced product engineering, quality and product strategy development.
"Ernie's extensive global product and manufacturing engineering leadership will help Meritor further strengthen its focus on delivering value to customers and meeting the company's strategic objectives," says Jay Craig, CEO and President.
DeVincent was most recently Vice President, Transmission Product Development, and Director, Global Platform at Getrag, a leader in transmission systems for passenger cars and light commercial vehicles. His responsibilities for product line oversight included the engineering, profitability, quality and delivery of Getrag's high-volume, dual-clutch transmission. DeVincent was also responsible for product line technical development and manufacturing integration in Europe and Asia. Prior to Getrag, DeVincent held various management and engineering positions at Ford Motor Co. for more than 20 years.
DeVincent earned a bachelor's degree in mechanical engineering from Fairleigh Dickinson University.