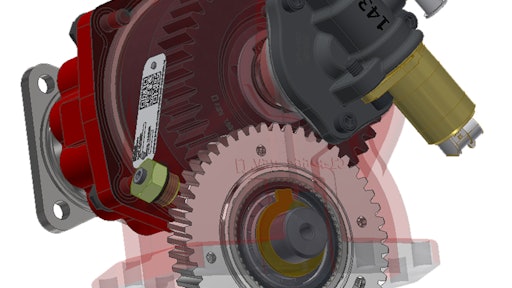 The Chelsea Products Division of Parker Hannifin Corporation, the global leader in motion and control technologies, has introduced the QT Gear, a patent pending sound dampening technology which can be applied to Parker Power Take-Offs (PTOs) that are engine driven by a live PTO drive gear in the transmission. The new gear assembly design smooths out the torsional vibrations found in diesel engine applications, with no change to the durability or torque capacity of the PTO.
The QT Gear's performance was evaluated with extensive engineering analysis, including advanced modeling, durability tests, Noise Vibration and Harshness (NVH) tests, fatigue tests and field tests.
"Drivers of work trucks are really going to appreciate the quite operation of a PTO with QT Gear technology," says Matthew Brannon, Marketing Manager, Chelsea Products Division. "Reducing noise always helps to make drivers more comfortable and allows them to be more productive."
PTOs equipped with the QT Gear were displayed at the Parker booth (3011), at the NTEA Work Truck Show, March 7-9, 2018 at the Indiana Convention Center in Indianapolis, IN.