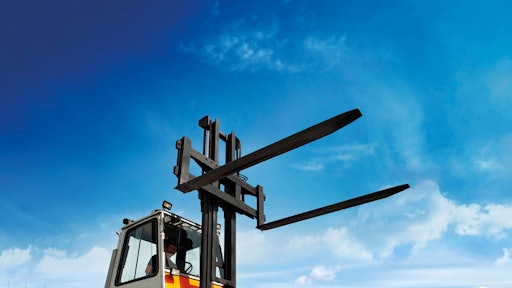 With ever-increasing pressure on productivity, the material-handling market is demanding more efficient lift trucks capable of reducing the length and cost of every operating cycle. As a result, a customer preference for larger fork trucks with higher lift capacities is emerging, and these vehicles require stronger, larger forks. In response Tata Steel, Europe's second-largest steel producer, is developing a new family of larger fork arm flats, which will be available to the market by the end of 2014.
These new products will increase the maximum size of fork flats the company is currently able to offer from 200 to 250 mm wide. Once the trials are completed later this year, the additional sizes, 250 x 100 mm and 250 x 110 mm, will complement the 26 existing sizes of strong, boron-treated steels already on offer for fork production. Boron is used as an alloying element in the production of this type of carbon steel, and has similar attributes to chromium, nickel and molybdenum in terms of increasing the strength of the steel. Boron brings a number of cost benefits, benefits which are already being passed on to their customers. The larger fork flats will allow OEMs to create forks for vehicles with much higher load capacities, allowing more material to be moved in each operating cycle, resulting in greater efficiency. In this way the operator can save energy and time, increasing the vehicle's performance over its lifetime.
Dave Watson, Tata Steel's Product Marketing Manager for material handling, says, "To develop and design complex products like this, we work closely with major OEM customers through our Early Vendor Involvement (EVI) program. By doing this we can better understand the challenges they face, and ensure that the solution matches their needs. For the development of the larger forks, we worked with a pilot customer to trial a number of larger fork arm flats, with a range of different width and thickness capabilities. The customer ran a series of tests on trial material to validate the product's properties, both to benchmark it against suppliers, and to discover ultimately how it will perform in its final application. From these trials we will establish a revised capability matrix outlining all of the new sizes, which will then be tested in the field by further customers. The final products are on track to be commercially available by the end of this year."
Special profiles, the products used to create masts and forks, are developed at Tata Steel's plant in Skinningrove, UK. These profiles are made of hot rolled steel, in non-standard or complex shapes, which are manufactured to individual customer designs. The tooling used to manufacture mast sections can be uniquely reserved for individual customers, with the option of adjusting tapering and tolerances for a truly customized service. Tata Steel is one of a very small number of suppliers to offer this service in Europe. The products can then be further processed to provide finished and pre-finished components, avoiding the need for customers to have expensive and space-consuming steel-processing equipment in house.
The new products will be sold alongside the existing range from stock, meaning Tata Steel can offer shorter lead times than its competitors, providing in turn a market advantage to its customers.
Tata Steel's ability to respond quickly to market trends is coupled with the flexibility provided by offering a global just-in-time delivery service and a simple purchasing process for its customers. These benefits allow customers to optimize their supply-chain planning and reduce the cost of their manufacturing processes. With the broadest range of steel products for the material-handling sector, Tata Steel provides all the products and services an OEM might need, from one single source.