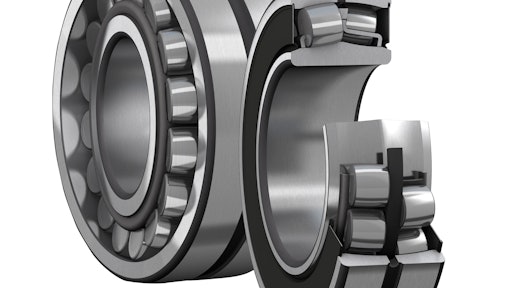 To address customer needs for improved bearing field performance, SKF launches its new SKF EnCompass Field Performance Program. Leveraging SKF's depth of application experience and tribological knowledge, the company-wide initiative focuses on bearing design optimization and more detailed analysis of the factors influencing bearing rating life to help meet real-world application conditions.
The new SKF Generalized Bearing Life Model has been created to help design engineers calculate a more realistic bearing rating life by considering more influencing factors than ever before. The model – built on the strengths of the current model developed by SKF more than 25 years ago and currently ISO-standardized worldwide – enables OEMs and end-users to more closely match bearings to actual application conditions.  For the first time the model encompasses more of the factors affecting anticipated bearing life. The model separates surface from sub-surface failure modes and expands the range of performance parameters, including those for lubrication, contamination, surface strength, and mild-wear resistance.  
As part of the program, SKF has optimized its SKF Explorer spherical roller bearings, SKF Energy Efficient deep groove ball bearings, SKF Energy Efficient Y-bearings and units, and SKF Explorer steel/steel plain bearings.
"SKF EnCompass really demonstrates our dedication to understanding and fulfilling the needs of our customers. They face unique and challenging application conditions and with these optimized product lines and calculation methods, we can help them match bearings to running conditions better than ever before, resulting in improved bearing life and reduced operating costs," says Helene Richmond, Head of SKF Product Lines.
As the result of improvements such as surface finishes and heat treatment, upgraded SKF Explorer spherical roller bearings can have a service life twice that of the previous industry-leading SKF Explorer bearings, especially under contaminated or poor lubrication conditions. In addition, with a new design that results in up to 50% less seal friction, small sealed spherical roller bearings now offer reduced operating temperatures by up to 20 C, enabling limiting speeds to be doubled.
SKF Energy Efficient (E2) deep groove ball bearings can provide more than twice the service life while reducing energy use. Design improvements reduce frictional losses in the bearing by up to 30% when compared to the same-size SKF Explorer bearing. SKF now offers an extended catalogue range of shielded and sealed SKF E2 deep groove ball bearings in order to cover a larger range of application requirements.
SKF E2 Y-bearings and Y-bearing units are characterized by a frictional moment that is up to 50% lower when compared to the same-sized standard Y-bearing. In addition to the energy savings offered by SKF E2 Y-bearings, SKF now offers fully assembled SKF E2 Y-bearing units that combine SKF E2 Y-bearings and SKF composite housings. Helping to reduce total cost of ownership, these lightweight, cost-effective and ready-to-mount units are particularly well suited to applications where high speeds, moderate loads, reliability and minimal maintenance are all key parameters.
SKF Explorer steel/steel plain bearings are also part of the SKF EnCompass program. They are initially lubricated and sealed to eliminate the need for relubrication in applications with low to moderate levels of contamination, such as those in off-highway applications. This generates significant savings by reducing maintenance costs and grease consumption. Additionally, extensive testing, in both the lab and the field, has resulted in a 50% increase in the dynamic load rating.
In addition, newly introduced software calculation tools can help customers improve bearing arrangement design and select the most appropriate bearing for an application and conditions. These proprietary bearing simulation software programs – SimPro Quick and SimPro Expert – account for shaft, housing, bearings, external forces, and gear loads in calculations to arrive at the ideal bearing for the job.
SKF EnCompass is a big part of SKF's commitment to further improve field performance for customers and, within the program, more products, new knowledge and innovative software tools will be released over time.