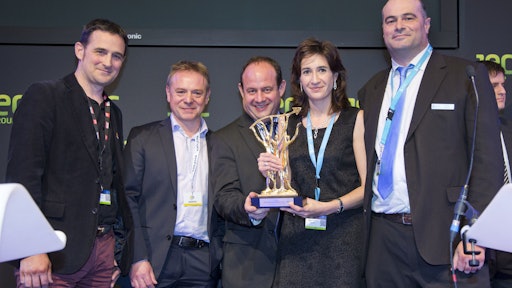 Researchers, engineers and manufacturers came together in Paris from March 8-10 for the JEC World 2016, the global event for composite materials. Renault Trucks, together with its partner Solvay (France) and the support of suppliers HBW Gubesch (Germany), SIKA (Switzerland) and Böllhoff (France), earned an Innovation Prize in the automotive category for producing an item of cab structure in thermoplastic composite materials reinforced by continuous glass fibers.
Already used in many sectors, such as aeronautics, composite materials are lighter than steel, while remaining just as resilient and making it possible to reduce the number of parts required. Renault Trucks' research focuses on composite materials based on thermoplastic resin. "We are very pleased to have won this prize, it proves we are heading in the right direction," says Marc Lejeune, Renault Trucks' Director of Research. "In this study, the use of composite materials reinforced by continuous glass fibers will enable us to reduce the unpainted cab's frontal mass by 25% compared with its steel equivalent. As far as clients are concerned, these significant gains will translate into potential fuel savings and higher payloads."
The Renault Trucks' engineers concentrated on developing structural parts for the front of the cab. "These parts carry a significant weight and many parts of the cab, such as the dashboard, for example, are attached to it," explains Lejeune. "They are subjected to considerable strain." This is why, apart from designing the part itself, engineers working on the project also test its resilience on endurance test beds and its resistance to a crash test, essential before it can finally be manufactured.
"Although we are only at the beginning of the research process and still have to validate several stages before we can think about putting it into production, composite materials with continuous glass fibers are a logical direction for our research due to the weight in savings they deliver," concludes Lejeune.