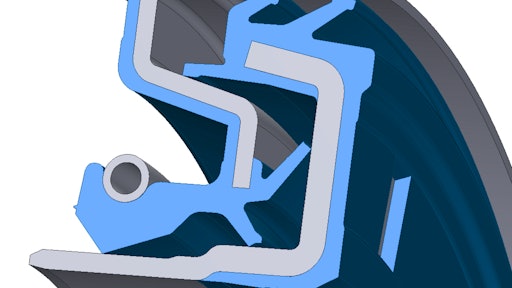 by Stefano Miletto, Product Marketing Director for the Global Lead Center Heavy Duty, Freudenberg Sealing Technologies
In the agricultural and construction segments, today's expanding global population challenges farmers to produce higher yields on the same or fewer acres and builders to establish construction sites in difficult and often extreme locations. Mobile machinery must be able to handle extreme temperature variations and higher operating pressures while offering longer service life, improved fuel economy, lower emissions and protection against harsh contaminants. These cost of ownership issues are central to every buying decision.
Today's mobile machinery customers are focused on technologies that allow their equipment to run longer, more efficiently and trouble-free. High-performance sealing systems in these machines can help address these issues. From a sealing perspective, this means an emphasis on superior dirt and dust protection and reduced mechanical friction.
Seals are used when it is necessary to separate two different media that must not come into contact with one another. As durability and performance requirements increase, manufacturers are moving away from the use of traditional radial shaft seals (RSS) to more robust combi and cassette seals.
Combi and cassette seals are dynamic seals that are concentrically positioned to close the hole created between a shaft and a bore. Combi and cassette seals keep lubricants in and contaminants out, and can be designed to address three different scenarios: a rotating shaft and stationary bore, a stationary shaft and rotating bore, a rotating shaft and rotating bore.
The seals integrate multiple components into one product. Combi seals, for example, typically consist of a sealing ring (single or double), a polyurethane washer and an external wiper, all integrated in one single product. Similarly, cassette seals combine multiple components, including radial shaft seals, into one closed product.
Advantages of combi and cassette seals
Compared to standard radial shaft seals, combi and cassette seals offer multiple advantages to customers, such as fewer inventory and handling accidents, faster and easier assembly, operation cycle time savings that exceed 50%, a reduction in repair costs and more overall system efficiency and durability.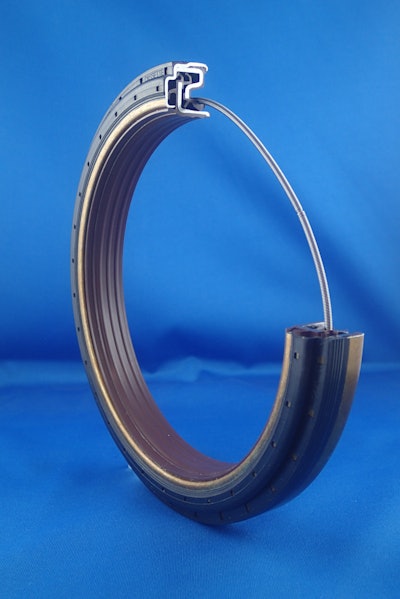 Significantly, combi and cassette seals facilitate the transfer of the entire sealing system responsibility to the seal supplier and can reduce the customer's final manufacturing complexity and costs. A large variety of combi and cassette seal designs have been developed to meet the complete sealing needs of mobile machinery drivelines from engine crankshaft to axle pinions, propeller shafts, wheel hubs and undercarriage.
Combi seals are designed as the best sealing solution for applications where shaft rotation and axial displacement (end play) must be addressed. These seals do not necessarily need axial play to work, but they allow axial movement and provide reliable dynamic sealing together with a higher level of protection from external pollution compared to standard seals. Combi seals work directly on the shaft surface or on an additional sleeve fitted on the shaft. During the axial stroke, combi dust lips remove the dirt wiping the shaft surface.
Cassette seals combine, in one single product, an RSS coupled with its proper working surface and multiple dust lips to offer contamination protection, as required by specific applications. Compared to traditional RSS, the cassette seal design offers several advantages: it eliminates shaft influence on the sealing lip performances, reduces the number of components to be managed and failures caused by assembly damages, and increases dirt protection.
Next-generation cassette & combi seal designs
Freudenberg Sealing Technologies participated in the 2017 International Fluid Power Expo (IFPE) in Las Vegas and introduced a number of cassette and combi seal innovations that set new durability and technology benchmarks in the mobile machinery sector.
The Cassette-S4 – Freudenberg's most advanced solution for mobile machinery wheel hubs and undercarriage applications – sets durability benchmarks with its superior dirt protection. Additionally, since cassette seals only deal with the running sleeve, a more precise running surface can be produced and a burden on the shaft manufacturer is reduced.
The development of the seal was aimed at exceeding the current sealing performance in extremely harsh operating conditions: resistance to dirt ingress has been significantly increased compared to the other designs. Comparative mud bench testing demonstrates the Cassette-S4's outstanding longevity to be up to four times longer than its Cassette-S3 predecessor (see figure 2). Field validation performance for the Cassette-S4 was equally significant, with major customers already switching to the optimized design.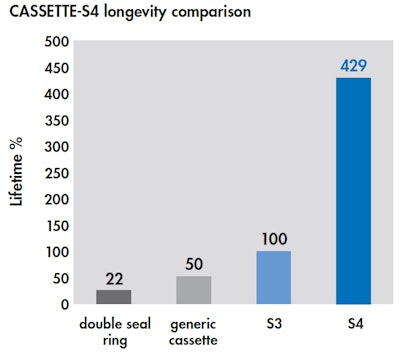 A robust and exclusionary labyrinth (while minimizing friction), combines the advantages of a standard cassette design with additional benefits: As the sealing function and tailored contamination protection are combined in one single part, all functional parts of the seal are protected inside an enclosed component, with reduced numbers of components to be managed compared to standard solutions, and reduced risk of accidental damages during handling and installation.
Shaft machining and surface finishing requirements are designed to be much lower than standard sealing solutions. Since no wear traces are on the shaft during operation, a rework/repositioning is not needed during service. The new design provides a plug-and-play concept and is easy to install and to replace.
The dynamic sealing function is supported by a lip design with proprietary Freudenberg material according to different application conditions, with an optimized seal working surface. The seal can stand the same application parameters as previous designs (speed, temperature and pressure range have not to be modified).
Dirt exclusion efficiency has been improved for the worst conditions possible due to design improvements including: five internal dust lips; a robust steel external cover; and a lifetime internal lubrication. The Cassette-S4 allows wider applicability on the field, given by increased capacity to work in highly contaminated environment (dry mud, abrasive sand and water).
The Cassette-S4 lifetime improvement was so impressive that Freudenberg is now benchmarking the design against Mechanical Face Seals (MFS) for the first time ever. Preliminary bench results confirm MFS well-known speed limits and show that Cassette-S4 exceeds the performance of MFS, extending the allowed application speed range up to 6 m/s.
Cassette seals for high speed
The purpose of high-speed cassette seals is to bring the cassette seal design advantages into critical applications like pinion or power take-off units for on- and off-road vehicles.
The key feature for the high-speed cassette seal design is the metal-rubber inner diameter, where the inner diameter metal part is located under the sealing edge to allow a higher heat flow from the sealing edge toward the shaft. It can stand bidirectional or mono-directional shaft rotation, offering from low to medium dirt protection.
Following the market requirement to have products allowing increasing rotational speeds without compromising dirt protection, Freudenberg has also developed the Cassette-HS-EVO. As shown by successfully completed benchmark mud tests and field validation testing, Cassette-HS-EVO reaches the equivalent dirt protection of the current best-in-class cassette seal design, but allows 50% max speeds also in combination with axial play. This unique combination of robustness and flexibility re-defines the traditional seal selection criteria.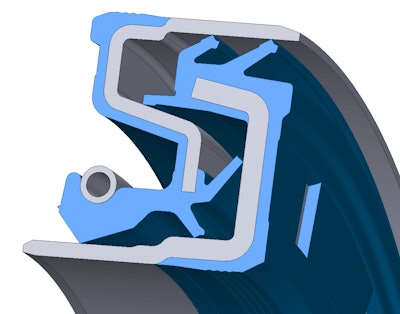 Designed specifically for today's challenges, one combi seal is designed to withstand the harshest operating conditions. As shown by successfully completed benchmark mud tests and field validation testing (see figure 4), the Combi-SF22 design improves the dirt protection extending longevity up to +75 percent compared to current best-in-class design. The Combi-SF22's external wiper in hardened nitrile butadiene rubber (NBR) demonstrates improved wiping effect, while the premium polyurethane washer with optimized design improves abrasion resistance and is now less sensitive to shaft eccentricity (better for shaft follow ability). The back-to-back seal design allows higher shaft axial stroke, increasing steering potential for axles.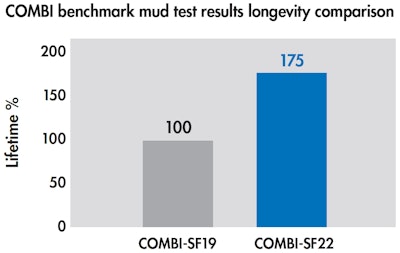 The agriculture and construction sectors have weathered several years of economic downturn that is only now beginning to dissipate. As such, technology innovations that prolong the life of existing machinery, while improving its efficiency, are vital to continued industry growth. At the same time, new regulations and environmental challenges drive the need to make mobile machinery more reliable, comfortable, fuel efficient and clean. Cassette and combi seals are small systems that offer significant advantages and value to customers. Future product optimization is being driven by advances in materials, technologies and design but cassette and combi seals also remain within reach of manufacturers' current application needs.