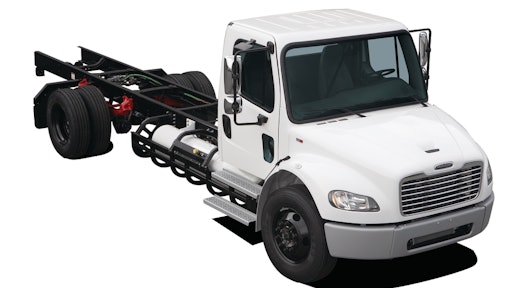 Freightliner Custom Chassis Corporation (FCCC) has introduced its S2G chassis, which provides the industry with the only factory-installed liquid propane gas (LPG) engine available to the medium-duty truck market, at the 2012 NTEA Work Truck Show.
Built on FCCC's popular S2 chassis, the S2G's 8 liter, 325 hp engine supplied by Powertrain Integration offers clean-burning LPG technology on a platform already known for its durability, reliability, maneuverability and design flexibility. The engine uses General Motors' proven long block and other components as its core.
The benefits of an LPG chassis include lower operational costs and reduced emissions, without sacrificing payload capability or performance. Designed for the medium-duty commercial market, the S2G chassis is suitable for pickup and delivery, student transportation and municipal applications.
"The S2G was developed in response to significant industry interest for an LPG solution without retrofitting or aftermarket additions," says FCCC president Bob Harbin. "In offering the only original equipment manufacturer LPG solution for medium-duty applications, we believe the S2G will meet our customers' needs. The S2G also perfectly fits into FCCC's heritage as a custom chassis manufacturer with a successful history in alternative fuel powertrains."
FCCC has more than a decade of experience designing and building factory-installed natural gas (CNG) and liquid propane fueled chassis for its commercial bus products. And while the S2G brings that experience to the medium-duty commercial market, it is also a new product developed in part through direct customer input.
"From the start, we invited our end-users, fleet managers and body manufacturers to tell us about their specific needs, from gross vehicle weight rating and chassis component placement to in-cab layout and electrical interfaces," says Jonathan Randall, director of sales and marketing for FCCC. "We didn't want to just add an LPG engine to our S2 chassis – we wanted to make the best chassis our customers could envision while making the most body-builder friendly truck in the market."
Like its diesel counterpart, the front-engine S2G utilizes the popular and dependable Freightliner M2 cab, which features a sloped, forward-tilting hood for superior visibility and easy engine access. It has a gross vehicle weight rating (GVWR) of 33,000 pounds and comes equipped with an Allison 2300 automatic transmission with PTO provision.
With the support of the Propane Education & Research Council (PERC), FCCC partnered with Powertrain Integration and CleanFUEL USA in the development of the S2G. The mission of PERC, established in 1996 by the United States Congress, is to promote the safe and efficient use of odorized propane gas.
Formed in 2004 and headquartered in Madison Heights, MI, Powertrain Integration provides custom solutions for OEM engines and drivetrains from the General Motors product lineup.
"We have long recognized that reducing the use of gasoline and diesel fuel is a high priority for many fleet managers, and we want the alternative fuel solutions we engineer to be the most cost-effective way of making that happen," says Powertrain Integration president Bob Pachla. "We believe the time is now for the S2G, a chassis that has the potential to dramatically change commercial fleet fuel consumption habits."
CleanFUEL USA, founded in 1993 and headquartered in Georgetown, TX, was the first company to develop liquid propane fuel injection systems in the U.S. The company also manufactures propane autogas dispensers and fueling infrastructure.
"The S2G chassis represents a major development in offering the only propane fueled medium duty truck to commercial fleet customers," CleanFUEL USA president Tucker Perkins says. "Collectively, we have created a high-performance, lower-emission fleet vehicle that sets new industry standards."
A limited preproduction run of S2G chassis is expected in the fourth quarter of 2012, with full production slated for the first quarter of 2013.