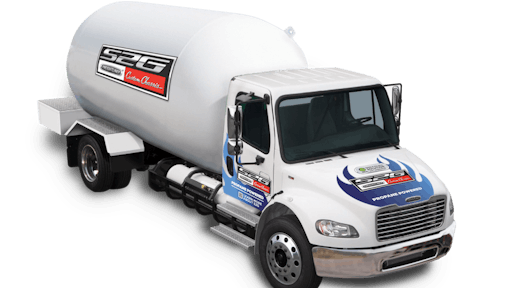 After a successful initial launch in 2012, Freightliner Custom Chassis Corporation (FCCC) has detailed its plans for the 2013 market debut of its S2G chassis, which provides the industry with the only factory-installed liquid propane gas (LPG) engine available to the medium-duty truck market.
FCCC is currently taking customer orders, rolling out a select series of S2G chassis this spring and delivering full production models by early fall; the S2G will initially be available exclusively to the propane-delivery market. FCCC displayed the S2G chassis at the 2013 NTEA Work Truck Show in Indianapolis, and offered ride-and-drives on a production version of the chassis.
"The S2G is a true OEM propane-powered truck that will be used to deliver and promote propane," says FCCC President Bob Harbin. "This is a very powerful and cost-effective product that utilizes our position as an innovative force for alternative fuel chassis. The S2G is a dedicated, propane-powered truck, and we are seeing a lot of strong early demand in the marketplace for this unique chassis."
Built on FCCC's popular S2 chassis, the S2G 8-liter, 350 hp engine supplied by Powertrain Integration offers clean-burning LPG technology on a platform already known for its durability, reliability, maneuverability and design flexibility. The benefits of an LPG chassis include lower operational costs and reduced emissions, without sacrificing payload capability or performance.
FCCC partnered with Powertrain Integration and CleanFUEL USA on the development of the S2G. It's also worked with the close support of the Propane Education & Research Council (PERC), established in 1996 by the United States Congress to promote the safe and efficient use of odorized propane gas.
"The S2G is the perfect blend of fuel economy, environmental responsibility and overall performance, making it the best value in alternative fuel," says Tucker Perkins, Chief Business Development Officer with PERC. "Propane autogas is an affordable fuel backed by an expansive and affordable infrastructure and proven technology. We consider ourselves fortunate to work with a first-class partner like FCCC."
With the wholesale prices for propane available to distributors consistently below $2 a gallon, FCCC and its partners see a healthy and growing market for the S2G as a highly cost-effective product.
FCCC has more than a decade of experience designing and building factory-installed natural gas (CNG) and liquid propane fueled chassis for its commercial bus products. And while the S2G brings that experience to the medium-duty commercial market, it is also a new product developed in part through direct customer input for the propane-delivery market and potential dealers.
"The S2G is a great opportunity for propane distributors to promote the very product they sell," says Mike Clark of LA Freightliner. "The features and benefits of the FCCC chassis are better for our end-users, like its 55-degree wheel cut, superior maneuverability and three-piece steel bumper, as well as outstanding parts availability and pricing. Add to that FCCC's ability for true build customization, and we expect the S2G to be a big deal for our customers."
Like its diesel counterpart, the front-engine S2G utilizes the popular and dependable Freightliner M2 cab, which features a sloped, forward-tilting hood for superior visibility and easy engine access. It has a gross vehicle weight rating (GVWR) of 33,000 lbs. and comes equipped with an Allison 2300 automatic transmission with PTO provision.