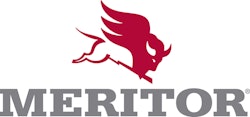 Meritor, Inc. and Meritor WABCO will be exhibiting at Truck World, which takes place April 19 to 21, at the International Centre in Toronto, Ontario. Representatives from both companies will be speaking at the Exhibitor Presentation Theatre on Thursday, April 19, to emphasize customer-proven trailer suspension systems and active safety systems.
Mike Guay, Meritor OEM account manager, will be discussing the Meritor MTA trailer suspension systems, which includes the MTA23, MTA25 and MTA30. Available in 23,000-, 25,000-, and 30,000-pound capacities, this family of trailing-arm, air-ride suspensions was completed in 2011 with the additions of the MTA25 and MTA30. These suspensions deliver industry-leading ride, handling, tire life and durability, and can be equipped with an optional lift-kit.
Ron Kozel, training specialist at Meritor WABCO, will be discussing a variety of the Meritor WABCO active safety systems. These include SmartTrac Stability Control Systems, OnGuard Collision Safety Systems, SafeTraK Lane Departure Warning by Takata and Roll Stability Support (RSS) for Trailers. Meritor WABCO is a leading supplier of active safety systems for commercial vehicles in North America, improving safety for all on the road.
Representatives from Meritor's DriveForce field sales and service organization will also be in attendance to answer questions about the aforementioned products and any others within the company's broad product portfolio. Meritor DriveForce is an industry-leading commercial vehicle support team equipped and experienced to provide solutions for your truck and trailer, including aftermarket, needs.
The Exhibitor Presentation Theatre is located on the show floor and includes seating for 30 people. Meritor and Meritor WABCO will be located at booth #5122 during show hours.