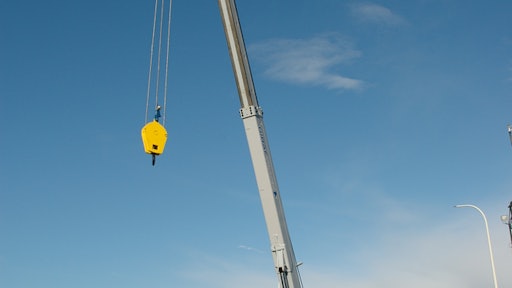 Testcentrum De Lille n.v., the manufacturer of the Giraf Track machines, presented no less than three exciting new developments at INTERMAT 2012.
Since the launch of the Giraf Track model GT580B back in 2008, the machine has been recognized for its excellent lifting capabilities as both an Aerial Work Platform (AWP) and Telehandler. The absence of the need for using outriggers made the Giraf Track GT580B perfect for "Pick and Carry" duties.
Several Giraf Track GT580B machines have been equipped with either a winch or a fly-jib with winch and these users where asking for better hoisting performances. Since the limit for a Telehandler-like machine in hoisting with a winch is mostly the torque exercised on the carriage, it became clear that another solution had to be considered.
At the INTERMAT 2012 show, Testcentrum De Lille n.v. was able to present the Giraf Track GT580-3C 'Compact Crane Concept.' This version of the Giraf Track is equipped with a newly developed three-stage boom and equipped with a hydraulic winch capable of hoisting a maximum load of 7.8 metric tons (optionally with a reinforced boom this will be 10 metric tons). Since the boom itself is relatively light in weight, excellent hoisting capacities at reach will be offered once the complete certification process is covered.
This new version will be equipped with a fixed or hydraulic jib in order to reach a maximum lifting height of about 21 m (standard without jib is 15 m). Equally possible will be the installation of an Aerial Work Platform with jib in order to reach working heights of 21 m and again making the machine more versatile then 'just' a standard compact crane.
The experience with the Giraf Track as an Aerial Work Platform has positioned itself in the market as one of the few, if not the sole, 'Mega Deck'-style self-propelled platforms. Many customers have asked for various types of platforms and this has led Giraf Track to become a supplier of specialist platforms of which the newest model is the AP22-R1000L36. This platform is capable of handling a load of up to 1,000 kg and three personnel if installed on the Giraf Track. Its sheer size of (wxl) 3.6 m x 2.3 m and even more over the possibility to open the front for easy loading/unloading make this new platform ideal for photovoltaic panel installation, dismantling asbestos sheet products, lifting complete window frames, and more.
Many Giraf Track GT580B machines are used on newly paved surfaces and the current solution of rubber blocks installed on the steel tracks were a make-do solution, but not 'perfect.' The rubber blocks have a very high friction which makes turning 'jerky' and leaves marks while driving on polished concrete floors. Since no alternatives were available, Testcentrum De Lille has developed its own synthetic pads that have no less than six major advantages over standard rubber blocks:
They have much less friction, so a tracked machine like the Giraf Track can 'slide' easily and effortlessly. In this way it can turn, maneuver and drive very smoothly over paved surfaces like asphalt parking, an indoor/outdoor concrete floor and more.

Even if their color is black, they leave no trace on polished concrete.

They are very durable due to the nature of the material and the applied thickness of the pad.

They are relatively light compared to rubber blocks, thus keeping the ground pressure low.

The cost is only slightly higher than a standard rubber pad.

They can be used on other machines (e.g. excavator cranes with the same CAT312 undercarriage plates size).
Testcentrum De Lille n.v. sees the use of these blocks for the Giraf Track working indoors as an AWP or the new Compact Crane GT580-3C performing HD lifting inside factories or other similar environments.