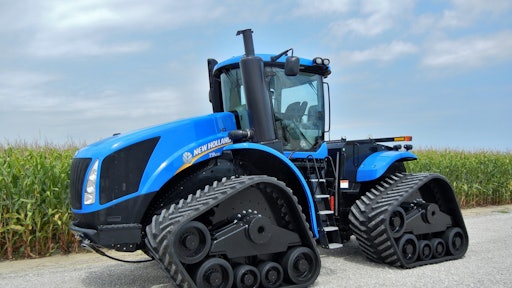 New Holland's T9 Series 4WD tractors meet the power and productivity needs of row crop and broad acres producers with a standard or wide frame, industry-leading hydraulics, the largest cab in the industry and the industry's first cab suspension system. With the availability of the new SmartTrax tracks option, producers also have benefit of a larger footprint and less soil compaction provided by tracks.
"SmartTrax tracks boost the productivity and pulling efficiency of our T9 Series tractors," says Sean Dorosz, New Holland High Horsepower Tractor Marketing Manager. "Producers using this track option will increase traction and reduce soil compaction and slippage, which translates into less surface damage and a smoother ride."
SmartTrax, available for New Holland's wide frame T9.615 and T9.670 tractor models, are premium-quality tracks with the toughest belts in the industry for longer belt life as well as uniform load to the ground. They are available in standard and high idler modules. The high idler configuration has a sled-shaped leading edge that drags crop residue and topsoil under the footprint for better traction and flotation. It makes it easier to drive in and out of ditches and climb over rough terrain and obstacles without undue stress on the operator or the machine.
In addition to the productivity advantages of reducing soil compaction and slippage, SmartTrax tracks are also versatile. They can be used on a tractor for spring planting and then installed on a combine for fall harvest. When it's time to replace a tractor or combine, they can be easily removed to install on the next machine. Installation is as easy as changing tires. The tracks bolt to the hubs without adapters, allowing conversion from wheels to tracks.