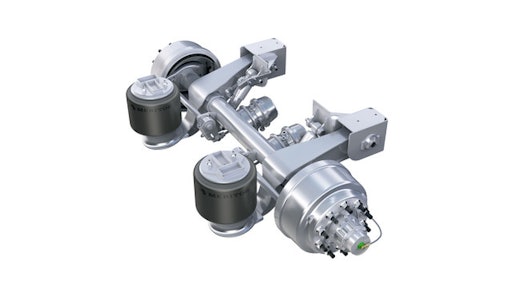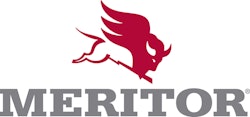 Meritor, Inc. announces the production of the MTA25 low-mount and MTA30 low-mount trailer suspensions, the two newest family members of its MTA (Meritor Trailing-Arm Air) suspension series for North American trailer operators. These units are specifically designed as part of a fully-integrated system to optimize performance and weight, and are ideal for vocational applications like single-drop flatbed, double-drop flatbed, loggers and chip hauler trailers.
The MTA lineup now includes the MTA23 (23,000 lb. capacity), the top-mount MTA25 (25,000 lb. capacity), the top mount MTA30 (30,000 lb. capacity) and the two newest low-mount products. All MTA models are available with the optional lift kit – a reliable quick-response system that efficiently raises select axles, improving maneuverability and extending tire life. Available in painted or galvanized finishes, the lift kit attaches easily and can be installed as original equipment (OE) or field retrofitted.
"During the last 22 months, we've brought five models of trailing-arm air suspensions for trailers to the North American market," says Craig Frohock, general manager, Global Trailer, Meritor. "We collect feedback from a variety of sources to ensure Meritor is meeting the needs of its customers: no matter the size."
That information drove the design and engineering of the latest iterations of the MTA.
"With the last two MTA models in production at our facility in Frankfort, KY, we're able to meet all our truck operators' demands for durability and reliability, plus the key factor of performance in the field," says Bob Brazeau, director of engineering, Aftermarket and Trailer, Meritor. "We know fleets want durable and lightweight products."
Distinct benefits of MTA25 and MTA30 low-mount models
The two new low-mount suspension systems feature improvements and technology advancements, including:
Durability – the MTA design outperforms leading competitive products two-to-one in laboratory and track testing
Lightweight – one of the lightest suspensions in its market segment
Unique, patent-pending, axle-wrap design – foundation for a secure and durable axle connection
Patented pivot bushing – absorbs road inputs resulting in a softer ride, more cargo protection and reduced stress on the trailer's structure. Patented steel interleaf shims in the bushing provide superior fore-aft stiffness aiding in improved axle alignment, better tire wear and reduced roll steer
Higher damping shock absorber – provides improved road-to-tire contact and contributes to better braking and longer tire life
The MTA trailer suspension system is integrated with Meritor trailer axles and Q Plus Cam Brakes. All are covered by the company's five-year, 500,000-mile warranty on structural components. Optional components include air disc brakes, automatic slack adjusters, the SteelLite X30 drum and lightweight hub and the Meritor Tire Inflation System (MTIS) by PSI. MTIS by PSI keeps tires properly inflated which improves tire maintenance management, trailer up-time and bottom line ROI.
The company also produces the RideSentry Trailer Air Suspension Meritor Parallelogram Air (MPA) 20, 38 and 40 for linehaul van trailer applications.
Trailer systems and components are backed by Meritor's industry-competitive warranty, global services and support. For after-the-sale support, the company's Aftermarket specialists – with support from the key distribution centers in Florence, KY, and Brampton, Ontario, are prepared to supply customers with MTA service parts.
Meritor's commitment to customer support is further enhanced with Meritor DriveForce, the company's North American sales and service organization, and the OnTrac technical support center, collectively staffed by more than 150 dedicated professionals to assist commercial vehicle customers with customized solutions before, during, and after the sale.