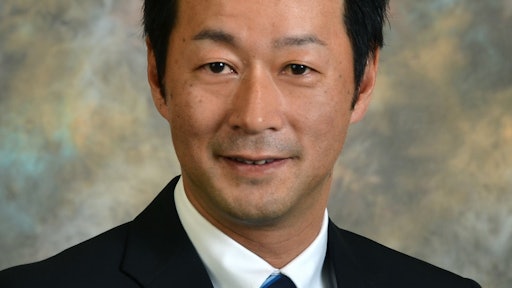 Yasushi Tanaka, president and CEO of Yokohama Tire Corporation (YTC), announces the promotion of Takayuki Hamaya to YTC Chief Operating Officer, effective immediately. According to Tanaka, Hamaya will also retain his position as company Executive Vice President (EVP) and Chief Financial Officer (CFO).
Tanaka says Hamaya will now assume executive responsibility for the following functions:  Consumer, Commercial, OTR and OE sales, accounting and finance, corporate planning, supply chain and operations, as well as internal audit. 
"Mr. Hamaya's promotion corresponds with our continued efforts to improve the service we provide to our dealers while delivering the best products to the market," says Tanaka. "I expect Mr. Hamaya to continue his strong leadership and valued contributions to YTC."
Hamaya, who graduated from Senshu University in 1988 with a degree in Economics, and earned an MBA from Alaska Pacific University in 1992, joined The Yokohama Rubber Co., Ltd. (YTC's parent company) later the same year. In 2004, he was named president of Yokohama Europe, and in 2005 became president of several Yokohama sales companies (in Germany, Switzerland, Austria, Denmark, Belgium, Sweden and Russia).
In 2007, Hamaya returned to Japan following an appointment as General Manager, Secretariat to work directly with then President of Yokohama Rubber Co., Ltd., Tadanobu Nagumo.
In 2009, Hamaya was promoted to president of Yokohama Tire Philippines (Manufacturing) and president of Yokohama Tire Sales Philippines. In 2011, he moved to the United States and was named EVP and CFO of Fullerton, CA-based Yokohama Tire Corporation.