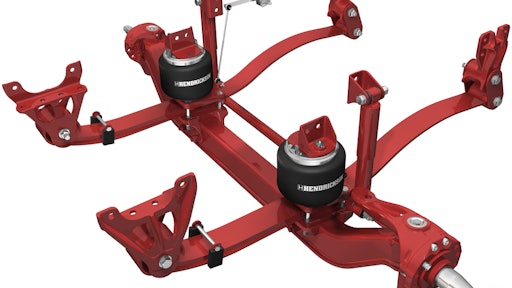 Hendrickson Truck Commercial Vehicle Systems announces the launch of its innovative STEERTEK NXT axle at Blue Bird and Freightliner Custom Chassis Corporation (FCCC). STEERTEK NXT will serve as the standard front axle for Blue Bird Type C and D school buses and Freightliner Custom Chassis motor home chassis. STEERTEK NXT is the next generation of Hendrickson's road proven, weight saving STEERTEK fabricated front steer axle.
STEERTEK NXT's continuous beam architecture minimizes stress points for added durability while providing a superior strength to weight ratio.
The rigid, box-shaped cross section of the axle resists horizontal, vertical and twisting forces more effectively than traditional I-beam axles. For brake option flexibility, STEERTEK NXT is compatible with both drum and disc brakes with either 5/8 in. or 3/4 in. fasteners.
"We are pleased to provide school bus and motor home operators with new innovations in front steer axle technology by offering STEERTEK NXT. The launch of STEERTEK NXT demonstrates our philosophy of continuous product innovation and our commitment to the school bus and motor home markets," says Doug Sanford, Vice President and General Manager for Hendrickson Truck Commercial Vehicle Systems.
Through Hendrickson's proprietary design and manufacturing process, STEERTEK NXT provides rigid strength, outstanding maneuverability and reduced maintenance. The unique axle design easily integrates with a variety of suspensions, allowing STEERTEK NXT to serve as the platform for Hendrickson's AIRTEK and SOFTEK front suspension systems as well as OEM proprietary systems.
The patented two-piece knuckle assembly simplifies kingpin bushing serviceability and includes a new double lip seal to further improve bushing life, exhibiting Hendrickson's commitment to maintenance efficiency. In addition, integrated steering arm and tie rod attachments increase strength and further reduce weight. This provides greater durability and helps to reduce maintenance costs.
STEERTEK NXT highlights a new, integrated clamp group and axle seat which are key design features that result in a platform for efficient system integration of various next generation front suspension systems. STEERTEK NXT's new clamp group also provides improved ground clearance and reduced part count compared to previous designs.
Available in capacities up to 14,600 lbs., STEERTEK NXT is approved for on-highway and medium-duty truck, bus and motor home applications.
Companies in this article