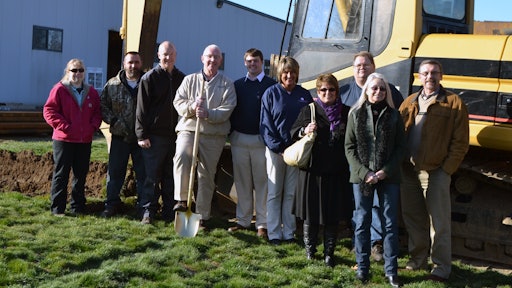 Caster Concepts Inc. (CCI), a premier manufacturer of heavy-duty industrial casters and wheels, broke ground recently on a 21,000 square foot addition to its current headquarters at 16000 E. Michigan Ave., in Albion, MI. Site work will begin immediately and as spring breaks construction will begin on the footings and the steel structure with completion expected in mid-summer 2013.
"I believe in this business and I believe in the people that make this business 'move,' that is why we have decided to make this investment. I am betting on the future of manufacturing in Michigan and I am betting on our employees," says William Dobbins, President. "There is a lot of work to be done to assure that the building that is being proposed serves our growth needs. It will be challenging and a lot of fun, to see this project progress."
The official name of the existing building is The Richard H. Dobbins Building for Manufacturing. "My father would be very excited about this announcement as he loved manufacturing and was very proud of this business," states Dobbins.
With the recent acquisition of LARCASTER and the launching of both Conceptual Innovations and Conveyor Concepts within the last 18 months, CCI is investing in future growth. "There never is a perfect time to make a move, and if you wait until you absolutely need it, you may have waited too long," states Andrew Dobbins, Production Supervisor. "We believe the time is right."
This addition will bring CCI's facility to approx 65,000 square feet. Starting out originally as a 20,000 square foot building, CCI has added floor space in 1997 and 2004. The first addition was to house inventory, while the second was to house the addition of Reaction Industries, a manufacturer of hot cast polyurethane parts.
"I want to recognize the great relationship that Caster Concepts has had with Parma Township. We value the location of our facility and the support we have received from many people to make this a reality," states Dobbins. The building project is being actively supported by The Enterprise Group of Jackson and Comerica Bank.
Construction will be managed by Victor Face of D.H. Roberts Construction of Jonesville, MI and site work will be done by Carr Brothers of Parma, MI. Local construction firms will be used whenever possible.