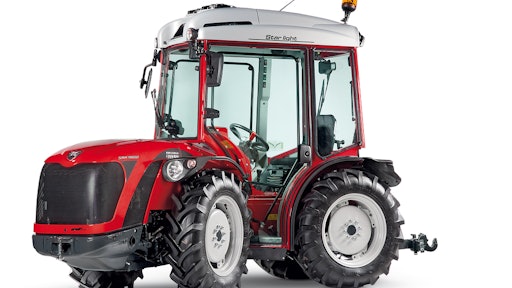 The SRH 9800 is best in class in the sector of municipal maintenance machinery. Equipped with a hydrostatic transmission, this articulated, reversible tractor is powered by a Yanmar 87 hp engine that delivers peak torque at only 1,850 rpm and class-leading fuel economy. The ESC (Electronic Speed Control) allows the operator to electronically set the forward speed and the engine and PTO revolutions. The SRH 9800 features a unique design that combines a hydrostatic transmission with the ACTIO reversible articulated narrow-track chassis (minimum 1 mt), making it ideal for working in confined spaces, as well as on slopes and uneven terrain. The reversible driving position increases the number of implements that can be fitted, enabling the tractor to work in whichever direction best suits the task in hand. This allows the operator to speed up work and increase productivity, while reducing the investment amortization time.  
The hydrostatic transmission with electronically-controlled continuous variation offers a number of modes of operation, allowing the operator to either vary the tractor's forward speed independently of the engine speed, use the Eco and Power reactivity programs, or choose a combined mode of operation according to the task to be performed. The Automotive function allows the engine revs to be increased according to the forward speed, while the Recall Speed function enables the system to recover and maintain the pre-set working speed.  
The SRH 9800 is ideally suited to meet the needs of municipalities. Amongst other applications, the tractor can be used in combination with a snow blade or snow blower travelling at speeds also below 200 m/h. Working with a powerful articulated tractor with hydrostatic transmission ensures high productivity and ease of operation: tractor and implement follow exactly the same path without any side shifting, even on curves, thus ensuring maximum work accuracy. Furthermore, the tractor's narrow track allows for easy maneuvering in the most confined spaces, such as walkways, cycles paths and pavements, thereby reducing the operator's stress. After the winter season, the reversible SRH 9800 can be fitted with a wide range of either mounted or trailed implements to perform a variety of tasks, such as cleaning of pedestrian areas (with rotary brush), maintenance of green areas (with blade mower) or material handling (with trailer). 
The SRH 9800 can be optionally fitted with the following features: Clean Fix, a reverse-flow fan specially designed to keep the radiator clean and efficient; a JPM proportional joystick to control the PTO, the hydraulic outlets, the constant flow to the hydraulic couplers and the electrical devices; a StarLight cabin equipped with air conditioning and activated carbon filters.