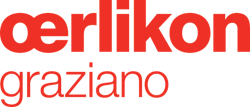 Oerlikon Drive Systems – with its brands Oerlikon Fairfield and Oerlikon Graziano – will showcase several new products at Agritechnica 2013, the world's leading international exhibition for agricultural machinery and equipment, November 10 to 16 (November 10 to 11 are preview days). The company, a leader in design, development and manufacturing of gearboxes, components and drives, will unveil details of its new C06 Torque Hub planetary drive, and highlight its Shifting Solutions at Hall 1, booth G124.
Oerlikon Fairfield's C026 Torque Hub planetary drives are designed for the largest self-propelled sprayers in the world. The C026 is intended for machines with a gross vehicle weight of up to 62,000 lbs. (30,000 kg). The heavy-duty, widespread bearing package allows sprayers to be equipped with dual tires to provide superior bearing life and structural integrity. The drive is available in ratios from 22:1 to 30:1 and features a 26,000 Nm intermittent torque rating and an output service brake system, and will be available in early 2014.
Oerlikon Graziano's Shifting Solutions offers the agricultural manufacturers a complete transmission design and engineering service. Alternatively the customer can elect to share the development experience working in partnership with Oerlikon Graziano on any specific synchronizer and/or powershift clutch requirement.
The benefits of this approach allow Oerlikon Graziano to focus on the customer's specific shifting requirements, drawing upon the organization's extensive knowledge and experience of working with friction materials for synchronizer applications. In addition Oerlikon Graziano can provide the customer with unrivaled manufacturing expertise in the development of fabricated powershift clutch modules.
All friction materials specified have been independently verified for performance in Oerlikon Graziano's purpose built Engineering Test & Development Center. After completing an exhaustive range of functional testing in all climatic conditions, the materials are given the Oerlikon Graziano Shifting Solutions seal of approval.
Oerlikon Drive Systems has a strong heritage, which is apparent in the depth of service provided by Shifting Solutions, and the development of the C026 Torque Hub is a demonstration of [the company's] ability to develop leading and unique products for a range of markets, says Dan Phebus, Head of Business Unit Americas. "The new C026 drive is unlike any other drive currently on the market as it offers Oerlikon Fairfield's new output service brake system, which helps machine designers meet the toughest industry braking standards, including ANSI/ASAE 365."
Paolo Ramadori, Head of Business Unit EMEAR and Chairman and Managing Director of Oerlikon Graziano SpA, says, "Our presence at Agritechnica 2013 gives just a glimpse of the breadth of our development expertise, which has expanded continually over the past three decades to include the development and production of complete transmissions. Shifting Solutions provides vehicle manufacturers with a wide range of options for managing smooth and efficient gear ratio changes to optimize their specific application."
Agritechnica 2013 will take place at the Exhibition Grounds in Hannover, Germany, and is expected to attract more than 2,700 exhibitors from 50 countries and almost 500,000 visitors from around the world. It is accompanied by an extensive and in-depth technical program.