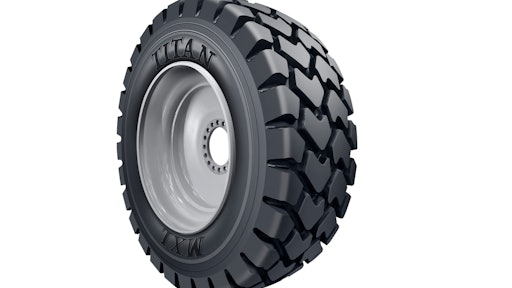 Titan Tire Corporation, a subsidiary of Titan International, Inc., is pleased to announce a significant expansion of their OTR product line, which now includes Low Sidewall (LSW) options for light-, medium- and heavy-duty equipment. LSW features a larger rim diameter and smaller sidewall than standard tires, which improves equipment stability and performance.
"The LSW design is a fundamental shift in the way tire and wheel assemblies are built for construction equipment, but we feel strongly that this is the way the industry should be moving," says Johni Francis, OTR Product Manager at Titan Tire Corporation. "The trend toward larger buckets and more powerful equipment has necessitated a departure from standard tire design, and as the only manufacturer of both wheels and tires, we're taking the lead on this movement."
LSW stability benefits
The lower profile and increased wheel size of the LSW design improves stability and reduces recoil and bouncing associated with the larger sidewall of standard tires. The design results in five primary benefits — increased bucket loads due to less machine-sway and resulting material loss; smoother ride and less bouncing on bumpy terrain; increased lateral stability around curves and hillside conditions; improved handling and improved breakout force.
"Our testing has shown time and time again that LSW assemblies outperform standard assemblies, which is why we've invested in the development of LSW options for nearly every equipment category," adds Francis.
Radial wheel loader and articulated dump truck
Titan now offers a range of radial LSW options for small, medium and large wheel loaders, as well as articulated dump trucks.
Titan MXL features an aggressive E-3/L-3 tread with sturdy lugs for optimal traction and torque transmission. The LSW expansion of this popular line is available in 20.5R31.5, which is an alternative to the standard 20.5R25 size for small wheel loaders.
Titan STL3 features an E-3/L-3 non-directional tread pattern and center-riding rib for excellent traction and long life. It is available in cut-resistant and wear-resistant compounds. The LSW 29.5R34.5 size is an alternative to the standard 29.5R25 size for medium wheel loaders and articulated dump trucks.
Titan LDR 150 features an L-4 extra-deep tread and wear-resistant compound for excellent rock damage resistance and long life in harsh settings. The LSW 58/80R63 size offers an alternative to the standard 58/80R57 size for large wheel loaders.
Bias grader
Titan Grizz LSW G9F features a G-2 tread and is available in four LSW sizes ranging from LSW 330-851 to LSW 395-851. The low profile reduces road lope and bouncing.
Bias backhoe
Titan now offers front and rear backhoe tires in LSW options.
Titan Grizz LSW G2E (front) features a 12-ply rating for excellent durability in the front backhoe position. The 320/60D24 size is an alternative to the standard 12.5/80-18 size.
Titan Industrial Tractor Lug (rear) features extra wide lugs and a low profile for excellent rear stability and reduction of swaying on the backhoe. The 19.5L-28 size is an alternative to the standard 19.5L-24 size.
Bias skid steer
Titan now offers skid steer tires in two LSW sizes.
Titan HD 2000 II LSW features deep lugs, a heavy sidewall and a large rim guard for excellent durability. It is available in 10-19.5 and 12-19.5 sizes, providing alternatives to the standard 10-16.5 and 12-16.5 sizes.
Additional LSW options coming in 2014
Titan will continue to expand the LSW product lineup throughout 2014, with plans to introduce more LSW options and sizes for wheel loaders and mining haul trucks. Product lines with plans for LSW expansions in 2014 include Titan MXL, Titan STL3, Titan LDR 150, Titan LDR 250, Titan DTH4, Titan DTE4, Titan 007 MFT and Titan CMR 100.