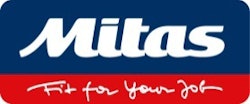 Mitas is launching Mitas Premium, a new product line of agricultural radial tires for powerful machines. From January 2015, Mitas Premium will replace all Continental-branded tires on new machinery produced by original equipment manufacturers (OEMs). Mitas has produced Continental-branded tires under licence since 2004. The top representatives of the Mitas Premium product line for high-horsepower (HHP) machines are the Very High Flexion (VF) tires HC 1000 and HC 2000 and Super Flexion Tires (SFT). VF tires launched in September 2014 are the latest innovation from Mitas.
"Mitas' strategy is to build equity in a single brand namely Mitas. From January 2015, all tractors and harvesters produced by major OEMs that were previously equipped with Continental tires will be fitted with Mitas Premium tires," says Jaroslav Čechura, Mitas' CEO. "Mitas Premium tires bear the same premium quality and technical characteristics as Continental tires. Our OEM partners recognize this, and they accepted delivery and fitment of Mitas Premium."
Mitas has negotiated deliveries of Mitas Premium tires to key agriculture machinery manufacturers such as ARGO, AGCO, CLAAS, CNH Industrial, John Deere and SAME DEUTZ-FAHR throughout 2014. At CLAAS, newly manufactured harvesters and tractors are already being equipped with tires from the Mitas Premium product line starting in October 2014. Other OEMs will start fitting Mitas Premium tires on machinery from now through to January 2015.
Currently, Mitas Premium for European markets includes several leading tread designs besides SFT and brand new VF tires HC 1000, HC 2000, namely also SFT IF (Improved Flexion), CHO (Cyclic Harvesting Operation), SST (Silent Speed Tire), AC 65, HC 70, AC70 T, AC85 Row Crop, AC90 Row Crop and AGRITERRA. Mitas aims to constantly introduce and upgrade the product offer of Mitas Premium. "For example the VF HC 3000 tire for harvesters is under development. Mitas will introduce it at the beginning of 2015," says Pavel Kott, Mitas' Agricultural Tires Product Manager.
The Mitas Premium product line is replacing and overstepping Continental tires. Mitas is strongly investing in its own research and development and has introduced several new products that are solely designed and manufactured under the Mitas brand. These innovations are tires in the category of Very High Flexion and Improved Flexion for HHP tractors and new generation combine harvesters. Mitas has also extended the variety of Super Flexion Tires, which draws on the performance of Continental SVT.
"We have been manufacturing Continental tires since 2004, and we are confident that Mitas Premium has the same premium quality," Čechura says. "We will be producing Continental-branded agriculture tires until 2019, when the license agreement expires but in [the] long-term [our] main focus is on Mitas brand. Our aim is to launch Mitas Premium also for replacement market in the near future."
Mitas has now been manufacturing Continental agricultural tires under licence for over 10 years. Since the licence agreement was signed in 2004, the company has produced more than 300,000 tonnes of Continental branded tires. Currently, Mitas offers more than 200 variations of Continental branded agricultural tires. Mitas prolonged its Trademark License Agreement with Continental Tires through 2019.