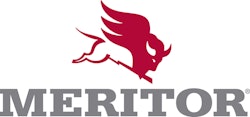 Meritor will introduce three new products and announce a new ratio for a current axle solution at the Technology & Maintenance Council (TMC) 2015 Annual Meeting & Transportation Technology Exhibition in Nashville, TN, from February 16 to 19.
Meritor plans to fuel change in the industry by showcasing:
MTIS Tire Inflation System for Trucks, the industry's first automatic tire inflation system for line-haul tractors that helps extend tire and wheel component life, increase performance and fuel efficiency, and reduce tire wear and maintenance;
The FUELite+ 6x2 rear axle and a new 2.28 super-fast ratio to the 14X 6x4 rear-drive tandem axle to improve vehicle efficiency and mileage through downspeeding;
MTec6, a 6 in., large-diameter trailer axle featuring the market's lightest-weight design, which will help fleets save fuel, expand payload capacity and increase tire life.
"Each and every product on display at TMC is helping fuel change in the industry," says Chris Villavarayan, President, Americas for Meritor. "Meritor is leading the trend on delivering products that make OEM vehicles more efficient by saving fuel, increasing uptime and reducing maintenance costs. These solutions, combined with DriveForce, our industry-leading service and support team, will positively impact how fleets do business."
In addition to the three launches, visitors to booth No. 910 can view the following Meritor and Meritor WABCO products:
MFS12.5, a lightweight, front-steer axle that offers an optimized turning radius of 55 degrees;
FUELite tandem axle, engineered to maximize weight savings and increase fuel efficiency in linehaul applications;
MTA25 trailing-arm air ride trailer suspension system with

Meritor

Tire Inflation System by P.S.I.;
14X carrier, the most-used axle in North America with best-in-class design;
RPL35 driveline, designed to handle the higher torque imposed on drivelines from downspeeding engines for fuel economy in linehaul applications;

Meritor

Q+ and STEELite X30 drum brakes and EX+ air disc brakes for truck and trailer applications, engineered to deliver performance and serviceability;
Safety and efficiency products from

Meritor

WABCO;

Meritor

aftermarket products, such as the

Meritor

Wheel Bearing Adjustment System and Temper-Loc spindle nuts, which offer quick and accurate preload, or "tight" bearing adjustments on a variety of steer, drive and trailer axles to reduce premature tire wear and vehicle downtime.