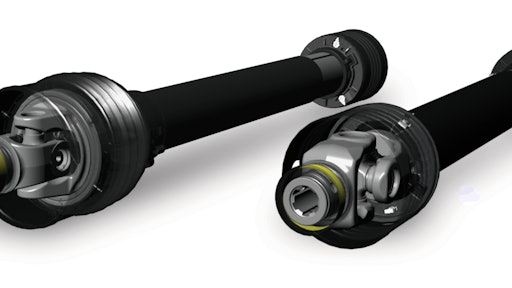 In collaboration with its French branch, Comer Industries Sarl in Serris (Paris), Comer Industries will be at SIMA - SIMAGENA 2015, the 76th international biennial exhibition of farming and breeding suppliers that will be held in Paris from February 22 to 26 in Paris' fair district, Nord-Villepinte (Hall 4, Stand H016).
In 2015, the French branch is celebrating its 30th anniversary: founded in 1985 to market products for farming mechanization, it later extended its activity to the industrial sector, and today serves its customers in the country with a team of professionals.
In line with the theme of the SIMA 2015 edition, "Innovation first," Comer Industries is presenting a preview at the show of its Centriplus system, which received a special mention in the SIMA Innovation Awards competition for improving the efficiency of wet disc brakes in differential axles for self-propelled farm machines, and especially for telehandlers; the D-732 two-speed parallel-axis gearbox, with assisted gear-change and a two-position electrical actuator that ensures easier and safer function of the strawbedding machines during operations, and the T-290 HD input unit, made for transmission systems for mowers of up to 5 meters of mowing width; the FR-567 mower model will be on display.
For feed mixers, Comer Industries is also exhibiting the compact series with elevated power density of PGA-2100 VM planetary drives for auger activation (patent pending); the low noise A-613 parallel-axis unit with electrical actuator, ready for integration with the ISOBUS protocol; the system for self-propelled machines consisting of the S-238 axle, which offers the highest braking performance and efficiency in the category, and the PGA-2503 VM planetary drive for delivering the vertical drive to the augers, a compact solution that can be combined with various types of hydraulic motor.
Comer Industries is presenting the E-torque driveshaft, equipped with a rubber element device that dampens alternative loads and vibrations coming from grain header cutting system. The E-torque makes up the complete lateral system for the cutter bar, composed of the T-312 unit, made of aluminum to achieve a drastic reduction in weight, and by the OS-780 wobble box for driving the blade.
Comer Industries is presenting the professional line of driveshafts VP 6, 7 (in the constant velocity version), 8 and 9, which stands out for its advanced safety performance, easy maintenance and extended lubrication times, paired with the safety devices, such as automatic torque limiters and the system for facilitated engagement of the driveshaft to the PTO.
The other products on display include the compact and sturdy PGWF-902 planetary drive for rubber-wheeled windrower and transmissions for corn header, such as the L-170 gearbox and the A-654 wheel gearbox, designed by Comer Industries Research and Development for leading manufacturers in the sector.