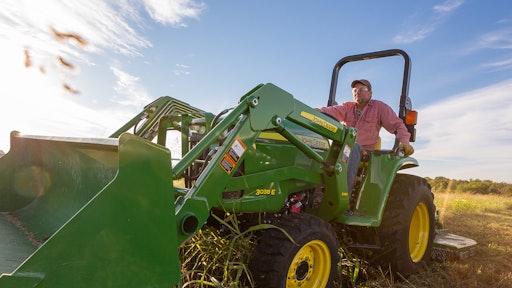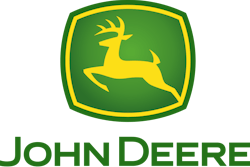 Designed and built in Augusta, GA, the 2015 John Deere 3032E and 3038E compact utility tractors feature customer-driven updates for added convenience, comfort and ease of use. The 3E Series models are practical for rural property owners, equine and small-scale livestock operations, landscape contractors and grounds care maintenance providers who are looking for a machine designed to handle a variety of tasks.
"The 3E Series is designed to make our customers' work easier," says Scott Schadler, John Deere Product Marketing Manager. "Their compact size, dependability, implement capabilities and affordability make the 3E Series a versatile tool for loading, hauling, blading/grading, digging, tilling and mowing."
The 3032E and 3038E are equipped with powerful, emissions-compliant Tier 4 Final engines with 31.1 (22.3 kW) and 37.3 (27.4 kW) hp, respectively. A hydrostatic transmission with Twin Touch pedals provides operators with simple, comfortable-to-use controls to find the right speed for the job at hand. It's as easy as pressing a single foot pedal to go forward and another foot pedal to go in reverse. Automotive-style cruise control is optional. Intuitive controls are color-coded (orange for throttle and shifting; black for hydraulics; yellow for power take-off [PTO]) for easy operation.
Both models feature a flat, uncluttered, open station operator platform. A new, higher back seat provides added comfort for long days of work. A foldable, certified rollover protection structure (ROPS) is designed to provide easier storage. Without tools, the operator can manually fold the safety device down for easy parking in a garage or shed. The exhaust system was moved from the top of the tractors and now runs parallel to the ground for improved visibility and a cleaner look.
Four-wheel drive comes standard on the 3032E and 3038E for tough applications and difficult ground conditions. To get the most versatility, the machines can be equipped with the John Deere iMatch Quick-Hitch. iMatch allows faster hooking and unhooking of hitch-mounted implements, such as box scrapers and rotary tillers. The 3E Series is compatible with a broad range of implements, including mowers, rear blades and posthole diggers. A factory-installed loader option is also available.
The 3032E and 3038E are part of the emerging E Series Tractor lineup. With more than 20 configurations, the E Series compact/utility tractors offer a family of capable, value-spec machines, ranging from 22 to 100 hp.
"These tractors are easy to operate, easy to maintain, easy to own and easy to buy," says Schadler. "No matter what the chore, there's an E Series tractor that delivers John Deere quality and reliability — at a budget-friendly price. In fact, the 1023E sub-compact tractor has a suggested U.S. list price starting at under $12,000."
Like the rest of the compact utility tractor lineup, the 3E Series is an eligible purchase within the GreenFleet Loyalty Rewards program. The industry-exclusive loyalty program from John Deere is designed to help customers manage their equipment more easily and cost-effectively.