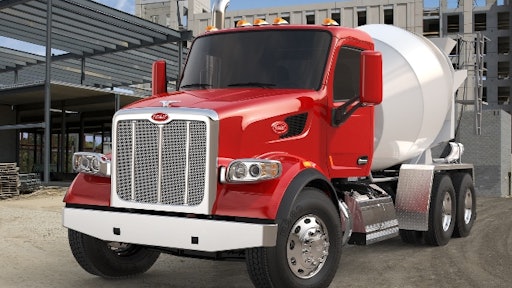 Peterbilt launched a new set-forward front axle configuration for its flagship vocational Model 567 that is ideal for mixer and other weight-conscious applications. The new model – equipped with a PACCAR PX-9 engine, an Allison automatic transmission with FuelSense technology and a McNeilus mixer body – was on display at the company's exhibit during the 2015 Mid-America Trucking Show.
"The Model 567 SFFA (set-forward front axle) lets customers maximize payloads while helping meet state and federal bridge law requirements," says Robert Woodall, Peterbilt Assistant General Manager of Sales and Marketing. "The Model 567 is a low-weight leader and this new configuration will let customers take full advantage of that through optimized weight distribution."
Like the set-back axle version, the Model 567 SFFA is available in both 115- and 121-inch BBC lengths. The 115-inch BBC has a bumper to front axle distance of 29 in. and the 121-inch BBC has a bumper to front axle distance of 31 in. These dimensions were carefully engineered to maximize maneuverability while providing the ideal wheelbase to comply with bridge law requirements.
"The new axle position builds on the Model 567's already exceptional versatility, helping customers across a wide range of applications reach higher levels of performance, productivity and profitability," says Woodall. "The Model 567 broke new ground for visibility, maneuverability and durability. Customer reception of the Model 567 has been overwhelmingly positive and the new SFFA configuration gives our customers more choices than ever to meet their jobsite requirements and business goals."
The Model 567 SFFA is available for order now through Peterbilt dealerships. Production is scheduled for June.
Both the set-forward and set-back front axle configurations of the Model 567 are standard with the PACCAR MX-13 Engine with up to 500 hp and 1,850 lbs.-ft. of torque. Both are available as a day cab or with Peterbilt's complete lineup of detachable sleepers.
Durable, Versatile Design
Lightweight, yet durable to provide many years of service, the Model 567's all-aluminum cab is enhanced with strategically positioned steel reinforcements. Durability is further improved with the Model 567's Metton hood that is highly resilient and can absorb many impacts that would shatter or crack other materials. The vehicle also features Peterbilt's signature stainless steel oval mesh grille and surround, and the hood pivot system has a protection function that directs energy around the cooling module in the event of an impact.
The Model 567's chassis is designed to maximize strength while minimizing weight for increased payload capacity. The chassis is 10 to 15% stiffer than comparable products for improved maneuverability, ride and handling. The clear frame rails facilitate ease of installation for various bodies, auxiliary axles and hydraulic tanks.
Outstanding Operator Environment
Panoramic visibility, superior ergonomics and best-in-class operator amenities combine to provide operators with improved productivity and safety. Maximum forward visibility is achieved through a panoramic windshield that features integrated locaters in the cab structure to allow for high-quality and time-efficient field repairs. A-pillars have strategically placed supports for added strength, allowing them to be 13% narrower than other designs, further enhancing visibility.
The forward lighting system on the Model 567 is a proven design that significantly enhances down-road visibility and reduces driver fatigue. The headlamps feature projector module low beams, which have a 2,000 hour lifecycle, and complex reflector high beams. Peterbilt's signature pod-mounted design helps protect the headlight from potential damage.
The Model 567's interior combines ruggedness and durability with comfort and performance for the vocational market. At the core of the new interior is a spacious 2.1 m wide cab that provides a quiet environment that reduces driver fatigue and improves efficiency.
Companies in this article