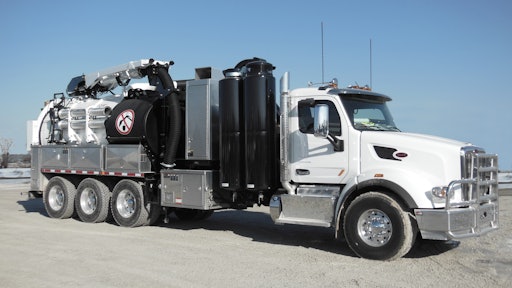 Vactor Manufacturing, the industry leader in vacuum excavators, sewer and catch basin cleaners and industrial vacuum loaders featuring innovative technology and custom configurable designs, has introduced the Peterbilt 567 Class 8 truck model chassis options for the company's HXX HydroExcavator. Featuring a rugged design, spacious interior and enhanced visibility, the new chassis option is ideal for rough environments.
"The Vactor HXX truck works in very harsh conditions and tough environments, constantly moving from the road to the field and back, so durability and operator comfort is important to customers with unique vocational operating requirements," says Ben Schmitt, Product Manager at Vactor Manufacturing. "With the new chassis option, our customers will also appreciate longer service intervals, increased uptime, lower operating costs and higher resale value."
Peterbilt 567 chassis
Vactor was one of the first OEMs to build on the new chassis, working closely with Peterbilt to lay out the 567 chassis configuration to optimize features for its customers. "We unveiled the new chassis on a Vactor HXX HydroExcavator at the Water & Wastewater Equipment, Treatment & Transport Show earlier this year," Schmitt says. "This chassis option includes a variety of features designed to improve on-road comfort, drivability, visibility and safety."
The chassis design reduces weight for increased payload capacity and improves maneuverability for operating in congested worksites. Chassis system routing improvements include new air and fuel hard lines and the separation of key air, fuel, diesel exhaust fluid and electrical systems routings which significantly simplify service, repair and body installation.
Spacious, ergonomic cab
"A comfortable operator is a productive operator, so a comfortable cab is the core of any truck," Schmitt says. "The roomy cab on the new chassis provides operators with a quiet, ergonomic environment that reduces driver fatigue and improves efficiency."
The steering wheel features tilt and telescoping capabilities through an easy-to-use, column-mounted lever. An easy-to-read gauge panel is completely visible through the steering wheel, and provides critical and functional information to the driver. A 5-inch color Driver Information Display features important information including an engine RPM sweet-spot indicator to help drivers maximize fuel economy. A secondary panel can house up to six optional gauges or, when specified, Peterbilt's SmartNav audio and navigation system.
The dash brow is positioned for excellent forward visibility and includes an integrated tray for quick access to often-used items. All controls and switches are placed within easy reach to minimize driver distraction. Backlit switches provide enhanced nighttime visibility.
A hanging pedal design with floor-mounted feel and actuation provides a more comfortable driving position and less fatigue for enhanced safety. Pedal position preferences, pedal effort requirements and driver safety and comfort have all been accommodated in the pedal package.
The standard aluminum cab structure on the chassis meets severe-service requirements and delivers long-lasting endurance and ruggedness. Strategically-placed steel reinforcements further increase strength and optimize rigidity.
Enhanced visibility
"Operator visibility to the jobsite, surrounding personnel and pedestrians, and road traffic is critical during daylight and evening work hours," Schmitt says.
A panoramic windshield features integrated locaters in the cab structure to enable high-quality and time-efficient field repairs. Strategically placed steel A-pillar supports, 13% narrower than other designs, provide added strength and further enhance visibility.
The forward lighting system on the Peterbilt chassis significantly enhances down-road visibility and reduces driver fatigue. The headlamps feature projector module low beams, which have a 2,000 hour lifecycle, and complex reflector high beams.
Ease of serviceability for improved uptime
The durable, lightweight Metton hood withstands impacts that would shatter or crack fiberglass. The hood opens a full 90 degrees for easier access to key service points, allowing technicians to reach the cab electrical and air connections, air intake filter, A/C service ports, and cab fresh air filter, which are all firewall mounted for convenient access.
The electrical system features angled dress covers to protect electrical connections. Routing troughs have been incorporated to define harness placements and ensure reliability. Electric-over-air rocker switches enable valuable electronic interlocks. This technology provides fleet owners and drivers with the peace-of-mind that critical components will not be damaged due to driver oversight.
Non-destructive digging
The Vactor HXX HydroExcavator provides a safer, easy-to-use alternative for potholing, waterline repair, slot trenching, directional drilling, sign and pole installation, pipe and line repair and installation and other large-volume excavation on oil and gas, construction, utility, site preparation, and municipal and public works job sites across North America.
The Vactor HXX features a 3,000 psi variable water multi-flow pump with the new patent pending DigRight technology that allows the operator to select a maximum water pressure limit to prevent the pressure from exceeding site or industry requirements. The DigRight technology includes a user-selectable maximum water pressure setting that controls the water pump's maximum water pressure output, preventing wear and tear on check valves, unloader valves, and relief valves by avoiding bypassing water. The system has three default selectable pressure limitations based on industry best practices for digging around underground utilities – 1,500, 2,500 and 3,000 psi – with the option to deactivate the feature.
Available in many different configurations – including positive displacement (PD) and fan configurations – to meet the specific needs of each customer, the Vactor HXX provides up to seven hours of continuous operation with the on-board water.