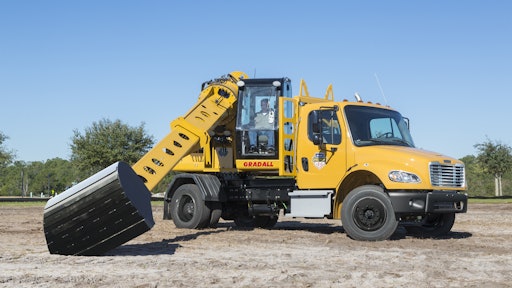 Gradall Industries is introducing the industry's first Crossover Hydraulic Excavator – a cost-effective solution for governments and contractors that need to do more work with fewer machines on tight budgets.
Discovery Series Gradall excavators combine the versatility benefits of Gradall's world-famous full-tilting, telescoping boom with the reliable over-the-road mobility of a Freightliner truck chassis, all combined in one highly productive, extremely cost-efficient construction project package.
Specially designed to handle projects frequently addressed by county and state governments, the new excavators are adept at grading, culvert replacement, landscaping, mowing, vegetation control, removal and replacement of curbs, gutters and sidewalks, and more.
Discovery Series Gradall hydraulic excavators can be driven out to one or more job sites without the need for a lowboy trailer. And once it's on a job site, the excavator remains mobile both on- and off-pavement with a two-axle chassis with a reinforced frame and a modified rear suspension, specifically designed in collaboration between Gradall and Freightliner engineers.
D152 models with two-wheel drive or D154 models with four-wheel drive travel easily with an automatic
transmission and over-the-road travel at highway speeds. And on the job site, the chassis can efficiently be repositioned along the length of a ditch or around the site from the upper-structure cab.
Discovery Series excavators are fully powered by a single Cummins 6.7 liter engine – emissions compliant in all 50 states – with 220 gross hp and 520 ft.-lbs. of torque.
Gradall's full-tilting, telescoping boom efficiently positions attachments to achieve greater productivity on a wider range of jobs – in effect, allowing you to use just one machine to do the work of a backhoe, crane, grader, excavator and a host of manual laborers.
The entire boom tilts 220 degrees without sacrificing boom power, which is a problem with boom-end tilt mechanisms. Authorized attachments include grading buckets, pavement removal bucket, excavating bucket, grapple, tree limb shear and mower, some of which use optional boom-end remote hydraulics.
The strong boom has two overlapping sections that telescope out to 27 ft., 10 in. at grade – more reach and range than can be achieved with a tractor loader backhoe or mini excavator. The telescoping boom movements also enhance Gradall's traditional low-working-profile advantage. Unlike the booms on mini excavators and tractor loader backhoes, Discovery Series excavators can work under bridges, in tunnels, under trees and signage, and in other low-overhead situations.
With a compact, near-zero tail swing, Discovery Series excavators can easily handle ditching and grading work along two-lane roads with only minimal traffic flow interruption. For full working stability, the excavators have front axle lockout cylinders and do not require outriggers, even when working at either side or to the rear of the machine.
The advanced Bosch Rexroth designed hydraulic system has pressure-compensated, load-sensing valves with reliefs on all circuits. This system supplies the right amount of hydraulic power for the job at hand while also conserving fuel.
The roomy upper-structure operator cab features an all-electric joystick control system that allows the operator to reposition the machine without leaving his working position and at speeds of 7 mph. An in-cab switch lets the operator choose the Gradall, Deere or SAE joystick pattern. The cab includes standard comfort and convenience features like heating, air conditioning, radio and a storable front window.
The chassis cab is a standard Freightliner M 2 day cab with two fixed or air ride seats. A large 2,500 square-inch tinted windshield and downward sloping aerodynamic hood provide a wide-open view to the front and sides of the cab.
The ergonomically designed interior has an automotive style flat dash with easy-to-read LED backlit gauges and easy-to-reach controls. A host of standard convenience features include adjustable steering column, electric powered door windows, dual reading lights, radio and an advanced heating and air conditioning system.
Companies in this article