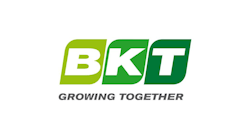 The Indian group BKT - Balkrishna Industries Ltd., a major player in the global off-highway tire market, aims at a turnover of 2 billion U.S. dollars by 2020. A challenging target based on a positive trend of growth of 30% over the last five years corresponding to 6% market share in the specialist segments for agriculture, earthmoving, mining, and industrial vehicles and machinery as well as port, ATV and gardening applications. The last financial year ending on March 31, 2014 closed with a turnover of 780 million U.S. dollars. The company employs more than 7,000 people and sells over 2,300 products in 130 countries worldwide.
Actually, a quite realistic target based on a firm and strategic business approach, continuous and consistent investment in research and development of always new solutions as a response to the special requirements of each segment, and not least on an intense communication activity. The focus lies on a brand of strong and deeply rooted values that are emblematic for a dynamic, solid, and likewise modern company.
More than 25 years of corporate history, deep and shared social ethics, a resolute commitment to environmental protection – all these make BKT a company with excellent growth perspectives, and a fully acknowledged and qualified reference point in a complex and highly competitive market.
The start of the first production plant for conventional tires goes back to 1987 in Aurangabad, Western India, followed in 1995 by the production of off-highway tires up to the establishment of the second production plant in Bhiwadi in 2002. In 2003 the production of ATV, gardening and earthmoving tires started. In 2004 the radial Agrimax tires were launched. In the same year, the production of tire molds started in Dombivali, and 2006 the third production plant in Chopanki was opened.
The latest and particularly remarkable production plant in Bhuj is a real milestone for BKT. Equipped with state-of-the-art production plants and a site extension of over 300 acres, it aims at a production of 120,000 tons per year.

Bhuj is also a brilliant example of "social factory" hosting a housing colony for employees and their families, residing within the community, where a hospital, a fire-brigade station, a large sports center and a school have been built. This shows the perfect harmony of the company's working ethics and life philosophy respecting and guaranteeing the well-being of the people living there.
All production sites, as well as the tire planning and developing processes have obtained the ISO 9001: 2000 Quality Certification. BKT also complies with the strictest international standards in terms of production parameters and quality control conforming to environmental regulations including the European Directive "REACH."
Correspondingly, the company is ISO 14001:2004 certified for its International Environmental Management System, a commitment in line with the installation of wind power plants enabling the company to self-generate clean and renewable energy.